How do we encourage participation at Arya college Jaipur?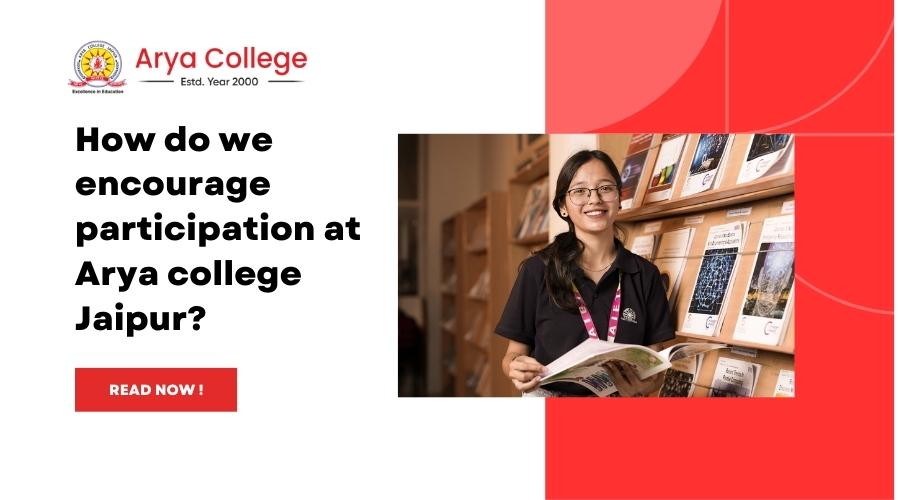 If you are a student, or are looking for more opportunities and participation while studying your engineering, then Arya College in Jaipur is for you! There are many ways that we can encourage participation at the college. Here's a list of what we have done so far:
Welcoming and inclusive environment
At Arya College, we believe that our students come from all walks of life, and we want to create a safe space for all identities. We understand that there are many reasons why people may not feel comfortable sharing their opinions or experiences in class, so we aim to provide an environment where everyone feels welcome and accepted. Teachers at Arya College will do their best to ensure your learning experience is positive every day.
This helps us creating more participation among students, without anyone felt left out.
Providing opportunities for student leadership
Arya believes that a leader is the one who carries everyone together. These leaders are not only choose among the students but are also selected by them.
Student council: The student council is a group of students elected by their peers to represent the student body. It provides input on school policy and organizes events such as dances and fundraisers for various causes.
Activities: The activities committee plans events that are fun for the whole school, such as field trips or movie nights.
Elections: In order to be considered for election, candidates must submit an application. Applications are reviewed by faculty members who then make recommendations based on each individual's merits as well as their commitment level and ability to work with others in a team environment (this means no one can run unopposed!). Students then vote during elections held at least once per year (usually around April).
Offering a variety of extracurricular activities
Arya College offers a variety of extracurricular activities helping every student to grow in their respective talents. The college has many sports clubs and societies, as well as an active student council that organizes events for the students. Students can also get involved in community service projects, such as visiting orphanages or volunteering at local hospitals.
Arya college Promotes campus events and activities
Arya College is dedicated to promoting an active and engaged campus community through various events and activities. The college recognizes the importance of providing a well-rounded college experience that extends beyond the classroom. To achieve this, Arya College regularly organizes events and activities that cater to a wide range of interests, including cultural festivals, sporting events, guest lectures, and social gatherings. Additionally, the college encourages and incentivizes student participation in these events through rewards and recognition programs.
Arya college Provide incentives for participation
At Arya College, participation is considered a vital aspect of the overall college experience. The college recognizes that a student's college journey is not just about academic learning but also about building social connections, gaining practical experience, and developing leadership skills. Active participation in college events and activities is an excellent way for students to achieve these goals.
Participation in campus events and activities allows students to explore their interests and passions beyond the classroom. It also provides opportunities to interact with peers from different backgrounds, cultures, and disciplines, which can broaden one's perspective and foster a sense of community.
Moreover, participating in campus events and activities can also help students develop practical skills such as teamwork, communication, and leadership. These skills are invaluable in the workplace and can give students a competitive edge in the job market.
Arya College understands the importance of student participation, and thus, encourages and incentivizes students to get involved in various events and activities on campus. The college also provides resources and support to students who wish to organize their events, giving them a platform to showcase their creativity and leadership abilities.
Conclusion
The Arya college is a great place to study, but it's also important to remember that there are lots of other ways for students to participate on campus. By encouraging participation in activities like extracurriculars or student government, the college can help make sure that everyone feels like they have something in common with their fellow classmates.