Arya College of Engineering and IT for MTech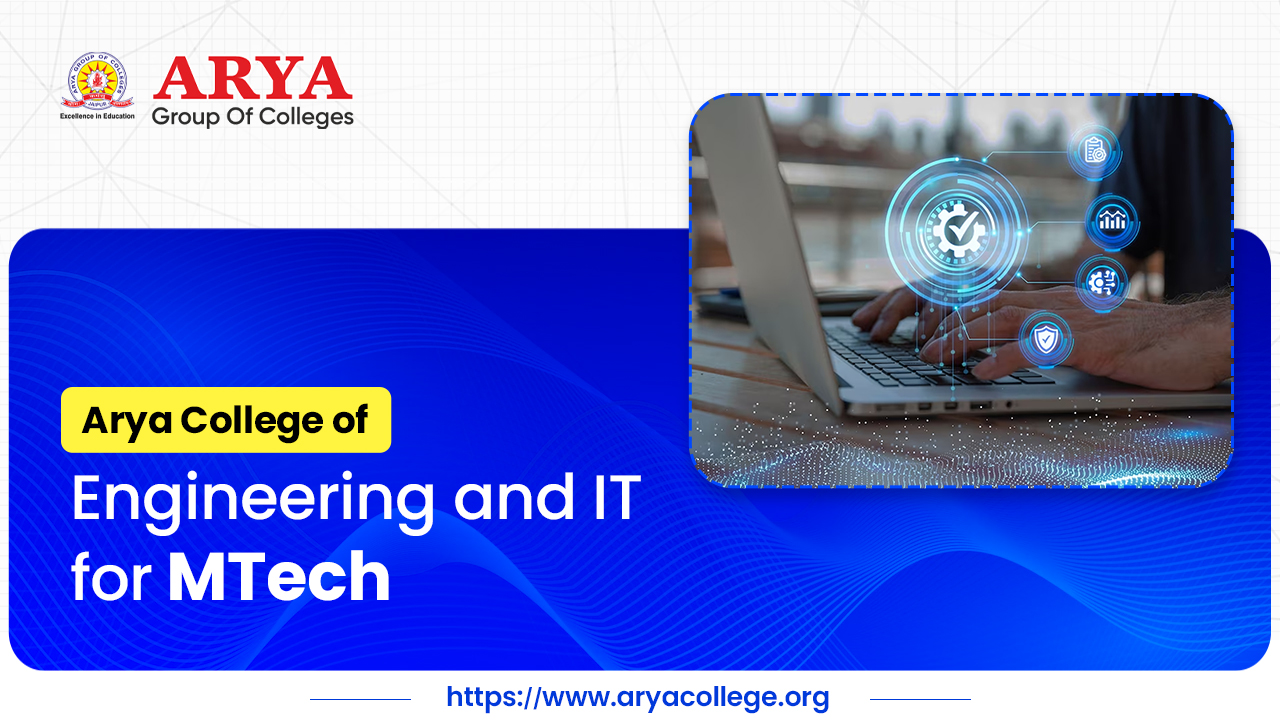 Arya College of Engineering and IT is located in Jaipur, Rajasthan, India. It is a leading institute for its quality education, research activities and student support services. The college offers undergraduate and postgraduate courses in engineering & technology, computers & IT, medical sciences and business studies. A major area that the college focuses on is MTech in Computer Science and Engineering. This article outlines an overview of this course offered by Arya College of Engineering & IT and why it's a great option whether you are looking to pursue higher studies or take up industry-relevant opportunities.
Why MTech in Arya College?
Arya College of Engineering & IT specializes in providing students a whole new level of technical knowledge that prepares them to excel in their chosen profession especially when it comes to the competitive field of computer science and engineering . Their MTech in Computer Science specializations covers all aspects such as software engineering, databases, cloud computing and machine learning. The course also offers specialized areas including artificial intelligence (AI), blockchain technology and internet of things (IoT).
The faculty members at Arya College have real-world experience too – having consulted with companies from industries like software engineering, analytics, financial institutions etc., helping students gain actual insights when it comes to theory being applied to everyday practice. In addition there are instructors who support ongoing exchange programs between institutions across India so the quality of education provided always remains high.


Specialization in Arya College
Arya College offers specialized degrees in a variety of fields, including software engineering, business, media and communication, social sciences, finance, psychology and more. Students can tailor their degree program to meet their specific needs by selecting from several areas within their desired field or by selecting courses outside of their chosen field to create an interdisciplinary curriculum. Specializing at Arya College allows students to hone their skills so they're prepared for advanced specialized positions upon graduation.


Eligibility to enroll in M.tech in Arya college
To be eligible to enroll in M.tech at Arya College Jaipur, you must have a bachelor's degree in a related field with a minimum of 60% or equivalent CGPA.
In addition, foreign students must demonstrate the English language ability by providing proof of IELTS or TOEFL scores.
Furthermore, scholars will have to meet the eligibility criteria like qualifying an aptitude test and interview.
Finally, satisfying all these evaluation criteria will get you admission into this college for higher studies.
How to Enroll for Mtech Course in Arya?
1. Prepare a complete and signed application to apply for the MTech Program at Arya College of Engineering and IT.
2. Obtain the application form through various sources such as its official website, college admissions office, newspaper advertisements or hard copy brochures.
3. Acquire required documents such as copies of all necessary academic certificates, transcripts, and experience letter or certificate for research or professional activities.
4. Submit the filled-in-application form along with all necessary documents to the college admissions office before the deadline specified in their advertisements or website.
5. Attend scheduled entrance examination, if required by the college for admission to the MTech Program at Arya College of Engineering and IT for summer 2021 intakes onwards
6. Personal interview (if conducted by exam unit). The qualified student then has to prepare a personal statement specifying his career plans after completion of his MTech from Arya College along with other relevant information that would be useful to assess him as an individual while selecting him/her for admission
7. Upon successful completion of above steps, pay the fee amount within due date via online payment gateways or wire transfer process
8. Receive letter of acceptance from college upon successful completion of admission process


Placements of MTech in Arya College
Arya College has excellent placement opportunities for MTech students. There have been a number of reputed IT companies that have come to the campus and conducted their selection process. The college has a dedicated career guidance cell which provides expert advice and assistance to the students, who are keen to pursue a successful career in the field of technology. Students have got placed in various MNCs like Microsoft, Uber, Oracle and many more. The college also offers internship opportunities at regular intervals enabling students to gain practical industrial knowledge and experience, making beneficiaries industry ready after graduation.
- Good placement rate, more than 90% of students receive offer letter and placements in top companies.
- Top recruiters include Google, Microsoft, IBM, and Amazon.
- Average package offered to MTech students is 6.5 lakh per annum.
- Institute provides exceptional career guidance and training to help their students get placed in esteemed organizations.
Hostel Accommodation at Arya college for M.Tech Student
With hostel accommodation facilities available right next to campus grounds ensuring convenient access to lectures, laboratories or lounges plus countless other events or panels organized within the college premises – prove Arya's commitment toward creating an engaging environment for every student enrolled into their programme no matter where they come from or what background they have; perfect making use of every opportunity while pursuing an academic degree here at Arya College!


Last Thought
Overall, if you're considering your options for studying MTech in Computer Science & Engineering then Arya should undoubtedly be one of your top choices!


FAQ
- What are the admission requirements for Arya College of Engineering and IT's MTech program?
The admission requirements for Arya College of Engineering and IT's MTech program include an official copy of the bachelor's degree in a relevant field, along with relevant work experience, an entrance exam score, statement of purpose (SOP), letter of recommendation (LOR), valid GATE/NET score, etc.
- What career options open up after an MTech from Arya College of Engineering and IT?
After completing an MTech from Arya College of Engineering and IT, job opportunities in research, design and development, project management, quality assurance, technical sales and marketing are some of the career options available. Additionally, one can continue with higher studies such as an MPhil or PhD from institutes like IITs and NITs.
- Is financial aid available for MTech students at Arya College of Engineering and IT?
Yes, Arya College of Engineering and IT offers various financial aid opportunities for MTech students such as loans, grants, scholarships, work-study programmes and research fellowships.
- Does Arya College of Engineering and IT offer research opportunities for their MTech students?
Yes, Arya College of Engineering and IT offers various research opportunities for their MTech students. The college has established a dedicated Research and Development Center which supports advanced research in various engineering domains. It also provides funding to faculty members and postgraduate students who wish to pursue research activities.
- Are there any industry collaborations with Arya College of Engineering and IT's MTech program?
Yes, Arya College of Engineering and IT's MTech program has strong industry collaborations with a number of prestigious companies such as Microsoft, Oracle, American Express, Infosys, and Wipro. These companies offer internships and training programs specifically tailored to MTech graduates.