Arya College Jaipur: How is a Best Placement College in Jaipur?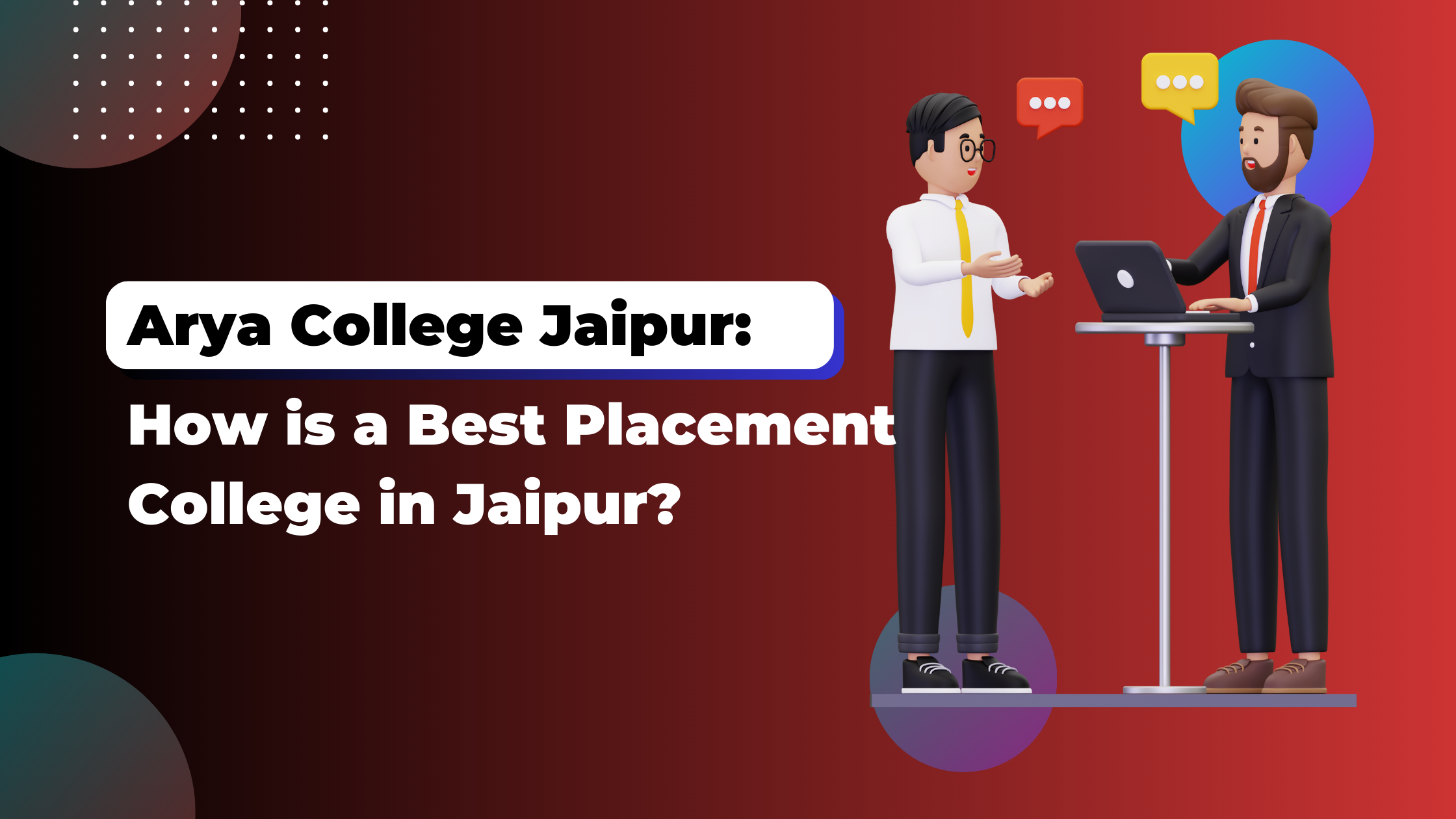 Arya College is a Best Placement College in Jaipur. Arya College makes sure that its students are well prepared for the job market by providing them with the best training and programs. This helps our young graduates get placed in renowned companies like, Wipro, TCS, Genpact and more.


Arya College is a Best Placement College in Jaipur.
Arya College has been providing the best education to the students since its inception. It has the right infrastructure and faculty that helps the students to achieve their goals in life. The college also provides placement services to all its graduates so that they can get good jobs after completion of their degree course from here, which will help them in making career growth easily without any problem or difficulty at all.
The college has gained huge popularity among students because of its excellent academic performance over years as well as having good reputation among industries/companies across India due to its high quality education provided by experienced professors who teach there regularly for many years now without taking any leave from work even once during this period which shows how much dedication these teachers have towards teaching profession!


Overview of the placement records and statistics
Arya College is a Best Placement College in Jaipur. The college has been able to attract students from all over the country and even abroad for its academic excellence. It has been consistently ranked among the best colleges of Rajasthan and is also known for its renowned placement record.
Arya College conducts campus placement interviews on a regular basis for its students who have completed graduation or post-graduation courses from this institution.


Industries and companies that have visited Arya for placements
Some of the companies that have visited Arya College are as follows:
TCS
Infosys
Wipro
IBM
HCL
Accenture
Capgemini
Cognizant
Tech Mahindra
Genpact
Ericsson
Tata Motors
Amazon
Dell
HP
Bosch
Samsung
LG
Microsoft
L&T
Unique features of Arya College's placement process
Arya College has a tie-up with companies to conduct recruitment drives. The college has a tie-up with several companies in the city and they conduct their recruitment drives on campus. Students get an opportunity to interact with recruiters in person, which helps them understand more about the company and its requirements.
Arya College has a tie-up with several companies in Jaipur for conducting campus interviews. The college also organizes on-campus interview sessions for students where they can meet potential employers face-to-face and give them their resumes or CVs so that they can be considered for employment opportunities later on. This is another great way of getting noticed by recruiters because you get an opportunity to prove yourself before they even consider hiring you!
Arya College has tie ups with many national level companies like Infosys, TCS etc., who conduct their online tests through us (for example: GATE Exam). We provide facilities such as computer labs equipped with the latest softwares required for these exams so that our students don't have any difficulty whatsoever during this process!
Career guidance and training programs offered by Arya College
Arya College offers a wide range of career guidance and training programs. These programs are designed to help students develop their skills and prepare them for the job market. Students can take advantage of these programs at any time during their college life, whether it be before graduation or after they have moved into the workforce.
Arya College has also developed an in-house mock interview program that allows students to practice answering common questions they will face during interviews with potential employers. This program helps students build confidence in their ability to succeed in an interview setting, so they feel more comfortable when talking about themselves or giving examples of past successes when asked by recruiters or hiring managers during interviews.


Conclusion
Arya College is a Best Placement College in Jaipur. We offer a wide range of courses, including engineering and management, with an emphasis on practical knowledge and industry experience. Our students are provided with opportunities to develop their skills through academic programs, extracurricular activities and internships at leading organizations across India as well as abroad.