What are the Ethical Considerations in the Field of B.Tech CSE?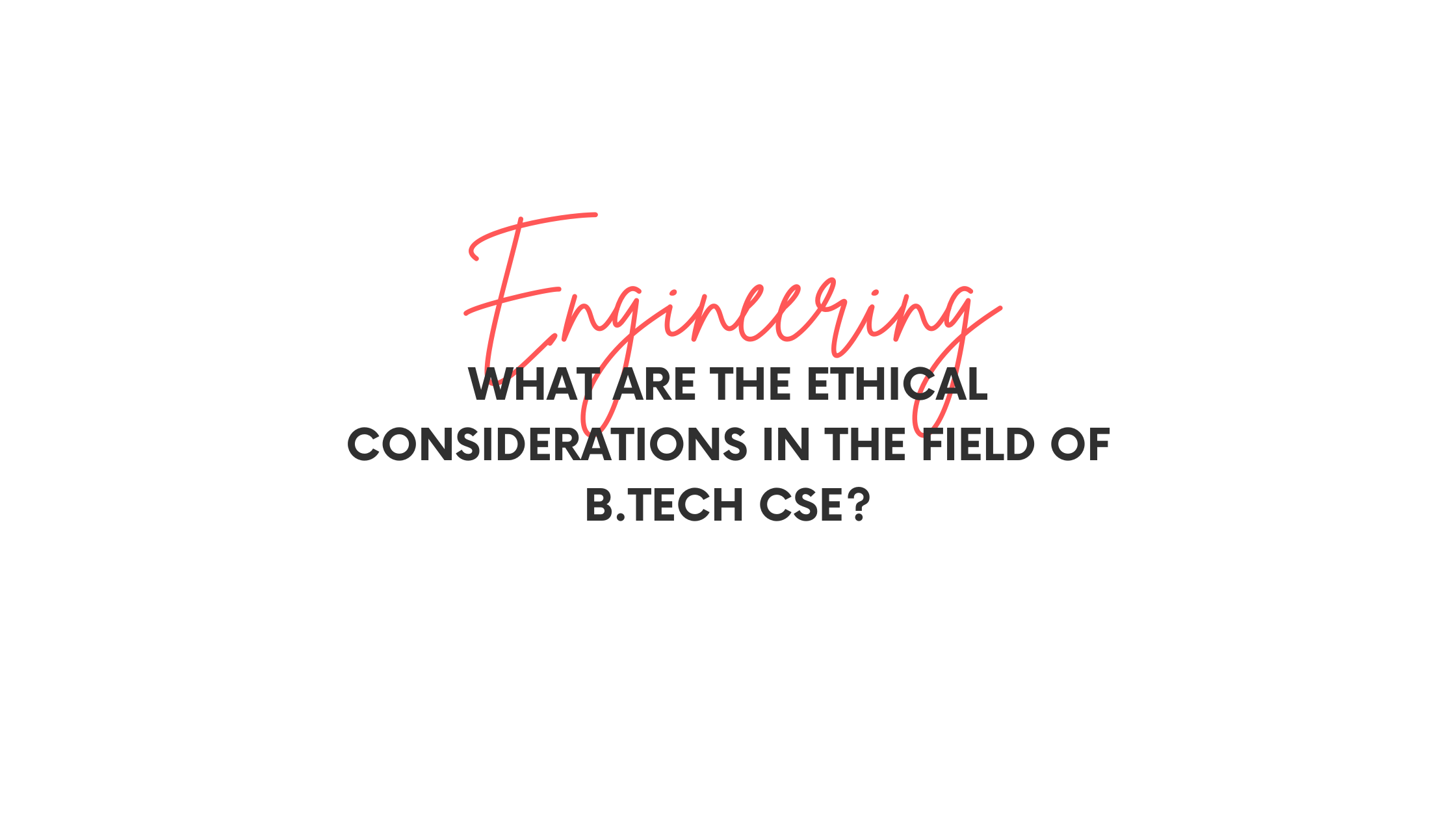 If you are considering pursuing a B.Tech CSE, you might have wondered if there are any ethical issues in this area. Well, the good thing is that computer science ethics is a growing topic of conversation among technical workers and educators around the world. And, about 26% of the surveyed BTech colleges teach computer ethics. Given this circumstance, we have created this blog to assist you with the main ethical issues in computer science, how they impact careers in the area, and what we can learn from taking this engineering course.
Table of Contents:
Know about BTech in Computer Science
What ethical issues are there in the field of B.Tech CSE?
Why choose Arya College for the best BTech in CSE?
Conclusion
FAQs
H2 - Know About BTech in Computer Science
A B.Tech in Computer Science specifically denotes the study of computers and sophisticated software, both of which are crucial in today's digital world. Moreover, graduates of this program research, evaluate, and design solutions to issues, develop new software, and innovate for businesses and organizations.
Some of the CSE Engineering course details are given below:
Degree Type
Undergraduate
Duration
4 Years
Minimum academic requirements
Applicants must complete their 10+2 education in the science field with required subjects like Physics, Mathematics, and Chemistry/ Biology/ Computer science/ Biotechnology.
Candidates shall receive at least 45% in their 12th Boards. But for applicants in the reserved category, this pass percentage can be different.
Average Course Fee
3 lakhs to 6 lakhs or above.
Job Options
Software Developer, Web Developer, Computer Engineer, Database Administrator, etc.
Average Salary offered to CSE fresh graduates
INR 4 LPA to 5 LPA
Also Read: CSE Vs IT: Which One Is Better?
H3 - Why is Ethics an Important Aspect of the Computer Science Sector?
A set of guidelines called computer ethics controls how individuals use computers. These ethics also address issues with computer abuse and how to stop it.
Furthermore, the most current official figures also show that India reported 52,974 cybercrime instances in 2021, an increase of over 5% from 2020 (50,035 cases) and over 15% from 2019. (44,735 cases). In light of this, the standard curriculum of CSE courses has been modified to cover the importance of ethics in computer science professions.
H2 - What Ethical Issues are There in the Field of B.Tech CSE?
A few ethical considerations that exist in the computer science engineering academic programs are discussed below:
H3 - Cyberbullying
It is the term used to describe when someone bullies another person through the use of electronic communication (such as the internet, telephone, etc.). However, friends, classmates, family, and other unknown people have all engaged in cyberbullying. Mostly by disseminating the same false information about a person, uploading and disseminating false photographs of a person, and sending damaging emails are different forms of cyberbullying, that mock or injure a person.
Source: firstsiteguide.com
How to protect yourself from cyberbullying:
Not to reply when being bullied online.
Never open emails from senders you don't recognize.
Secretly save your password.
Exercise caution, when posting something on a social media website.
H3 - Hacking
This refers to an immoral action where a highly trained technical individual, also referred to as a hacker, enters another person's computer without the user's consent and steals crucial data, projects, or apps from the computer. And occasionally, the information on the system is also destroyed.
The various terms connected to hackers are represented graphically below:
Source: firstmonday.org
Computer science engineering courses discuss these potential defences to save from hackers:
Never link your computer to a free network or free wifi.
Always verify permissions and authenticity before installing any software on your device.
You must use preventative software, such as anti-virus and anti-malware programs.
Use secure passwords that contain letters, numbers, and special characters at all times
Regularly update your operating system.
Phishing
This is a method of stealing user data through internet hacking. However, this activity involves sending the user an email that convinces them to feel it is coming from a reliable source. Additionally, the attacker requests the victim visit their website after sending the email, and while there, they will request personal information from the user, such as a password or credit card number. So, this is how the attacker gets access to the user's personal information.
Ways to avoid being a victim of phishing:
Never click on a link or open an attachment in an email that was sent by someone you don't know.
To be sure no illicit transactions have taken place, regularly review your bank statements. Also, inform your bank right once if any fraudulent transactions occur in your account.
Ensure that the firewall of your computer system is always active.
Don't reply to an email from an unknown sender with personal information.
Spamming
Receiving mass unsolicited emails in bulk from an odd or unknown source is called spamming. Occasionally, mail bombing activity occurs because your mail server becomes overloaded with mass emails. And, in maximum instances, spam mail is used to spread malware, spyware, viruses, worms, trojan horses, and other forms of user-attacking software.
The following strategies for spam protection are taught in a BTech computer science and engineering:
Install software that filters or blocks spam to avoid it.
Never click on a link emailed to you by someone you don't know.
Keep your software updated at all times.
Delete any suspicious mail you find in your mailbox right away, without opening it.
Plagiarism
This is an act of stealing or duplicating someone else's intellectual work (which might include an idea, literary or academic work, etc.) and passing it off as your own without acknowledging the original author or citing the source.
The following methods against plagiarism are covered in the BTech CSE courses:
Always use your own words when writing.
Use a plagiarism detector before publishing any updates.
Make sure to cite the original author in your text if you are borrowing someone else's ideas or words.
Why Choose Arya College for the Best BTech in CSE?
The Arya College Jaipur constantly revises its course offerings, according to changes in the industry.
The professors here are all experts in their fields and instruct students using both theoretical and practical learning methods. Also, assignments are regularly given to make sure that the students are learning.
As one of India's top-ranked computer science engineering colleges, it is committed to supporting students' overall development by helping them select the ideal career path.
Its infrastructure was constructed with the academic, residential, and office needs of students and college personnel in mind.
Conclusion
Conclusively, computer ethics can help to guide social behaviour and user interactions when using computer systems, especially where the internet is concerned. They also work to prevent technology misuse by computer scientists and programmers within the field. Additionally, India's internet penetration rate increased from roughly 4% in 2007 to nearly 48.7% in 2022, which emphasizes the importance of teaching ethical considerations in B.Tech CSE study programs.
FAQs
How should ethics be applied to computer programming?
Some approaches to practicing ethics in computer programming include making a positive impact on society and people's well-being, preventing harm to others, being honest and reliable, giving credit where credit is due for intellectual property, respecting others' privacy, and maintaining confidentiality.
What is the most significant benefit of a B Tech Computer Science Engineering course?
The growth of data science, big data, artificial intelligence, and machine learning has made the BTech computer science engineering study programs quite popular nowadays and offers the chance to earn a sizable salary.
Does Arya College Jaipur help its students with job placement?
Yes, as one of the top-listed colleges in India, it provides all of its students with placement assistance. Additionally, some of its recruiters include reputable companies like Capgemini India, Wipro Pvt. Ltd., Tata Consultancy Services, Infosys Limited, etc.
What function does computer science serve in contemporary society?
The study of computers has made it possible to create sophisticated technologies that can help solve environmental issues. Additionally, computers make it simple to address problems like pollution, waste management and disposal, disease detection and containment, and others.