What are Some Essential Skills for Success in Electrical Engineering?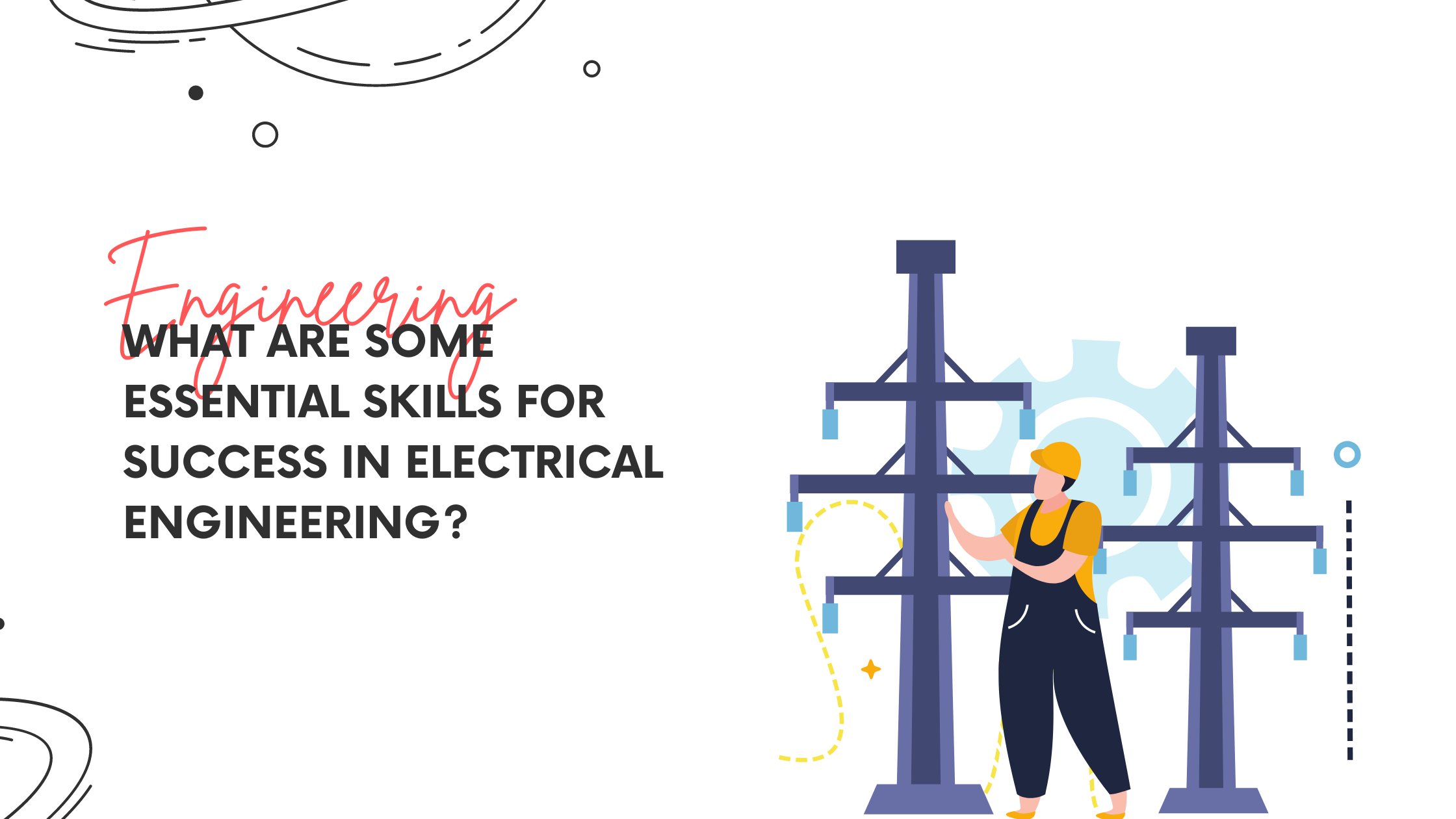 As an electrical engineer, you will design, develop, test, and supervise the manufacturing of electrical equipment and devices. And to carry out your work smoothly, you need to have a very special and specific set of skills in order to be able to handle such difficult concepts and theories and comprehend how to use them in real-life tasks.
Want to know those essential skills? In this blog, we have compiled a list of soft skills and hard skills that are essential for students pursuing electrical engineering. These skills will help you achieve a promising career.


Electrical Engineering
Electrical engineering is the branch of engineering that focuses on the study of electronic, electrical, and electromagnetic applications. Electrical engineers design, develop, test, and manage the manufacture of a variety of electrical devices such as electric motors, communication systems, radar and navigation systems, etc.


Electrical Engineering Course Details of Arya College
Course Level - Undergraduate
Course Duration - 4 years
Eligibility criteria -
Applicants must have passed the 10+2 level examination with a minimum of 50% aggregate marks with physics, chemistry, and mathematics as compulsory subjects.
Availability of seats -180
Job prospects - Biomedical engineer, Power engineer, design engineer, systems engineer, systems analyst, electrical engineer, telecommunication engineer, etc.
Essential Skills for Success in Electrical Engineering/ Electronic Engineering Courses
Below- mentioned are the top soft skills and technical skills that will elevate your resume and give you an added advantage over your competitors.
Soft Skills
Critical Thinking
Employers favour applicants who can evaluate the advantages and disadvantages of an electrical system or product rationally and critically. And if you can come up with alternative solutions using your critical thinking, then you'll be considered valuable by your employer.
Problem-Solving
Engineers are hired to solve problems and hence it is a must-have skill to have a successful engineering career. And electrical engineering professions require exceptional problem-solving abilities because it aids in overcoming complex obstacles and coming up with novel solutions.
Communication Skills
As an electrical engineer, you must possess the ability to communicate the complex terms/process of project/electrical equipment in an easy way to clients and colleagues. Also, it is important to have good verbal as well as written skills as many times you need to make a document explaining how a particular circuit or any electrical equipment works.
Leadership
Engineers successfully work with interdisciplinary teams to complete their projects. The electrical engineer is required to be able to estimate the requirements of each project, choose wisely how to use resources and optimize each stage of operations in order to lead effectively.
Creative Thinking
Creative thinking is another essential skill employers look for. This skill will help you in investigating limitless possibilities and creating new technology for the industry. Having this skill will help you secure a job in big business houses.
Technical Skills
Engineering is a technical job, and more than soft skills, employers look for candidates who have strong technical/hard skills.
Programming Skills
It is very important to learn programming languages such as Java, C, C++, etc. as it will help you in analyzing data with low-embedded systems.
Basic Circuit Knowledge
To develop and repair electronic devices, it is essential for an electrical engineer to possess basic circuit knowledge. Having the knowledge of basic circuits, you'll be able to create safe electrical systems.
Project Management
Engineers with this skill, have a great demand in the market. Engineers who want to take up higher/ leadership positions in an organization must possess these skills.
Electronic Troubleshooting
As an electrical engineer, you should be able to analyze a problem to determine the best course of action for solving it. This is one of the crucial abilities that you must possess.
Autodesk AutoCAD
This is one of the most essential technical skills employers look for. You must be familiar with AutoCAD and be able to use it to produce stunning images of your ideas. This designing tool helps decision-makers comprehend your central idea while also bringing your thoughts to life.
Knowledge of Physics and Mathematics
As an electrical engineer, you need to be in charge of all the calculations and theories that go into the design. And to carry out your work smoothly, you should know how to calculate ratios and proportions, and should possess knowledge of physics and engineering principles.
Below- mentioned is the graph representing the most common skills found in resumes of electrical engineers-
Source- https://www.zippia.com/electrical-engineer-jobs/skills/#rf
How Arya College Jaipur Will Help You in Building These Skills?
The student development cell and placement cell of the college will help you in building and improving your soft skills.
This college offers the best electrical engineering courses, its course curriculum includes a detailed study of theoretical and practical aspects of electrical engineering. You will learn programming languages, and gain knowledge about electrical systems, troubleshooting, and all the other important topics of electrical engineering.
This college is considered the IT hub of north India, and various prominent companies of the industry such as L&T infotech, Infosys, TCS, IBM, HCL, etc. visit their campus for the placement drives.
The electrical department of this college has eminent faculty with years of experience in teaching and research area. Also, the department has an electrical lab, R&D labs, library, etc that will help you in learning with detailed insight.
Conclusion
In India, around 354 thousand students enrolled in electrical engineering in 2023. And according to the Bureau of labour statistics, there will be a 3% increase in employment opportunities for electrical engineering graduates by the year 2029. So, if you want to excel and avail the best opportunities available in this domain, you should join the prominent electrical engineering colleges of Rajasthan like Arya College jaipur and make sure to brush up on the above-mentioned skills before applying for a job.
Frequently Asked Questions
How to improve the required skills for an electrical engineer?
You can improve the requisite skills for an electrical engineer through-
Ask for feedback from professors, colleagues, and managers.
Pursue a master's degree in electrical engineering.
Attend short-term training programs.
Attend seminars, and read books, and journals on the related topic.
Get practical experience through an internship program.
What is the difference between B Tech electronics engineering and B-tech electrical?
While electronic engineering focuses on the analysis of small-scale electronic systems like computers and integrated circuits, electrical engineering deals with the issues related to large-scale electrical, power transmission, and motor control.
Electrical engineering degrees help you get a job in which sectors?
With a B tech electrical engineering degree, you will get jobs in Robotics, manufacturing, aerospace, consumer electronics, and renewable energy sectors.
Is JEE mains compulsory to get admission at electrical engineering colleges in India?
No, the JEE mains exam is not compulsory. There are various colleges that give admission to students based on the merit list of class 12th whereas some colleges conduct their own entrance exam, or prefer to give admission on the basis of other entrance examinations such as WBJEE, MHT CET, etc. The eligibility criteria of the college vary from one another.