Technology Innovations – Why Should you Take Admissions in Arya College?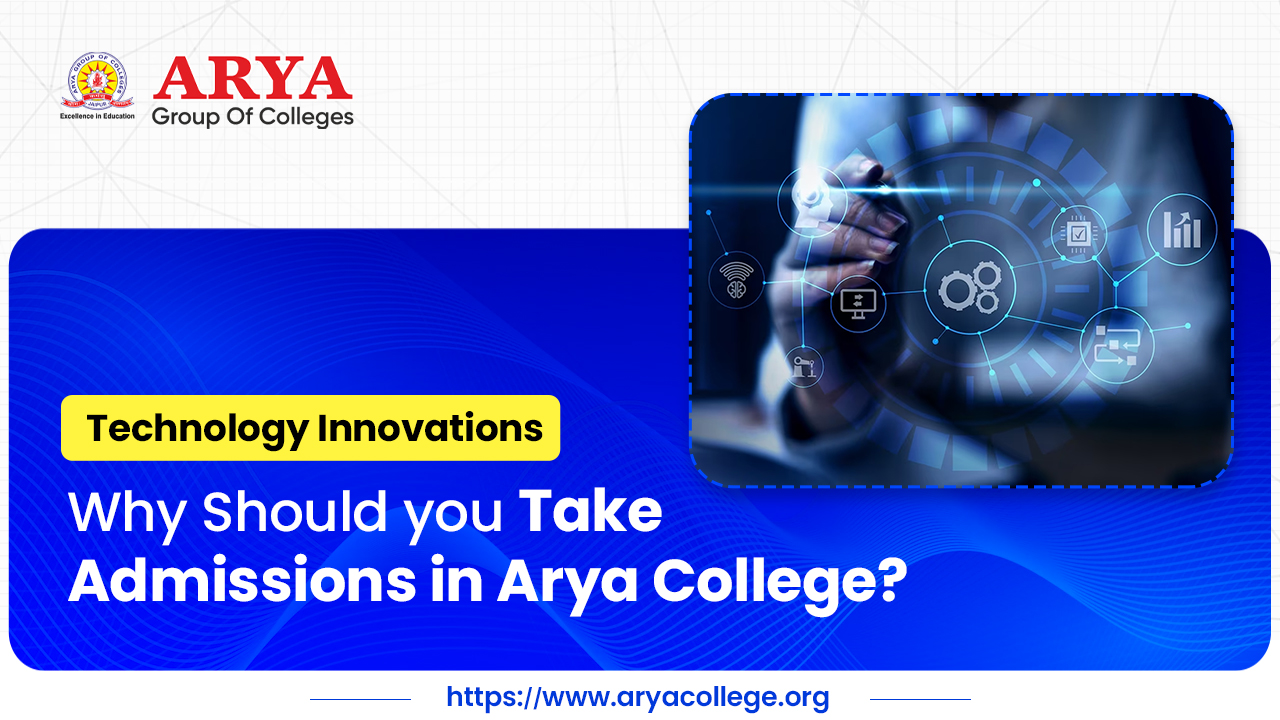 Arya College, Jaipurhas always been a trend setter in terms of technology innovations. We have been at the forefront of introducing new technology to our students, which helps them develop their skills and become leaders in their field.


Arya College, Jaipur Digital Campus
A digital campus in an engineering college allows students to access educational materials and content, participate in online classes, use social media tools to stay up-to-date with their studies, and even access valuable job postings. It also permits collaboration with engineering peers and professors, giving a better understanding of the subject material while making it easier to give and get feedback.
The Arya College, JaipurDigital Campus provides students with online access to academic resources and activities, including access to library services, lecture recordings, support services, and digital collaboration opportunities. With the digital campus, students can learn anytime, anywhere while having a better learning experience as well as more career opportunities.
Also Read - GET ADMISSION WITH A 12TH MARK IN ENGINEERING COLLEGES


Comfortable Technological Innovations
Engineering colleges can provide comfortable technological innovations in their classrooms to make the learning experience more effective and enjoyable. This could involve providing comfortable computing workstations, collaborative video conferencing tools, interactive whiteboards, and other devices that allow for a more engaging learning environment. Additionally, investing in modern software engineering tools such as IDEs and powerful debugging tools can help make students' development faster, easier, and more efficient.
Arya College, Jaipuris the most comfortable educational institute for students, teachers and parents. We understand the importance of technology in education and therefore our students are provided with state-of-the-art facilities so that they can excel in their studies.
Arya College offers Wi-Fi internet facility to all its students so that they can access information easily through the Internet and also share their work on Micro projects, Development projects and learn at the same time.


Convenient to Operate
Arya College is a digital campus, which means that the students are provided with all the necessary technology to learn and operate in an effective manner. Whether you are on campus or off campus, you can access all kinds of learning material at any time through our digital library. This also helps in reducing the cost of transportation so that you can focus on your studies instead of wasting time traveling from one place to another for different reasons.
Moreover, there are no restrictions on using technology at Arya College because we believe that every student has different needs according to their level of understanding and expertise in various disciplines; therefore it's important for us to provide them with proper guidance so that they can use these tools effectively without compromising quality education standards.


Student-Friendly Technology Innovations
Student-friendly technology innovations at engineering college can include things like 3D printing labs, virtual reality projects, machine learning and coding courses, online lecture platforms, cloud computing technologies, online collaborative tools, and more. These tools can help to foster learning and collaboration between students and faculty members in the college environment.
Arya College is a student-friendly institution that offers a wide range of technology innovations. Some of these include:
● Technology innovations are user-friendly. They are easy to use, affordable and accessible.
● They are reliable, which means they will continue working as expected over time without any need for maintenance or repair work by the user/owner of that particular device or gadget.


"Provides an environment where students can explore, learn and adapt to the changing world by using technological tools."
Arya College provides an environment where students can explore, learn and adapt to the changing world by using technological tools. Technology is a tool to be used by students and it should be taught in a way that makes them think critically about its use. Students must be taught how to use technology responsibly so that they can make informed decisions regarding their personal data privacy or how their social media posts may affect others. The engineering college has also taken steps towards creating healthy digital habits amongst students by providing them with resources such as online courses on cyberbullying prevention and internet safety awareness programs which help create awareness among parents as well


Takeaway:
Innovation is the key to success in life. It allows us to make better decisions and solve problems. It also helps us communicate with others, which is why it's important for students who want to pursue a career in the field of technology.
In order to become successful in any field, one must know how things work. Technology has made our lives easier by making things more accessible and convenient than ever before; however, there are still things that need improvement such as communication between people or solving problems efficiently through research & development (R&D).
Also Read - Importance of Workshop and Seminar in Student Life


Conclusion
Arya College is one of the best engineering colleges in Jaipur. It has a long history of producing good students and the college has always been at the forefront of technology innovations. Arya College provides an environment where students can explore, learn and adapt to the changing world by using technological tools.


FAQ
Why should you take admission in Arya College?
Arya College provides an excellent education and a wide range of opportunities for students to learn, grow, and succeed. The college offers many unique courses, professional development programs and extracurricular activities to help its students become successful professionals and well-rounded individuals. Additionally, Arya College has an experienced faculty with a commitment to providing personalized attention and guidance to every student.


What are the technological innovations that Arya college is using in their campus?
Arya College is using a variety of technological innovations on their campus, such as virtual classrooms, intelligent lecture capture and streaming technology, automated attendance systems through RFID cards or biometric systems, automated student performance analytics, and student-facing portals for accessing academic data.


How is the learning environment at Arya College?
The learning environment at Arya College is highly stimulating and fosters creativity, innovation, collaboration, and a love of learning. Students are encouraged to explore new ideas, take risks, and ask questions without fear of judgment or failure. Additionally, faculty and staff provide support and guidance in developing learners' full potential.


Are there scholarships or financial aid options available to students at Arya College?
Yes, Arya College provides a range of scholarship and financial aid options to students. These include merit-based scholarships, need-based grants and scholarships for military veterans. Eligibility requirements vary, so it is best to contact the college's financial aid office for more information.


What support services are offered to help me succeed in my studies at Arya College?
Arya College offers a range of support services to help you succeed in your studies, including academic and career counseling, library resources, tutoring groups and workshops, online learning modules and forums as well as laboratory resources and mentorship programs.