How do MBA Programs Different from Other Business Programs?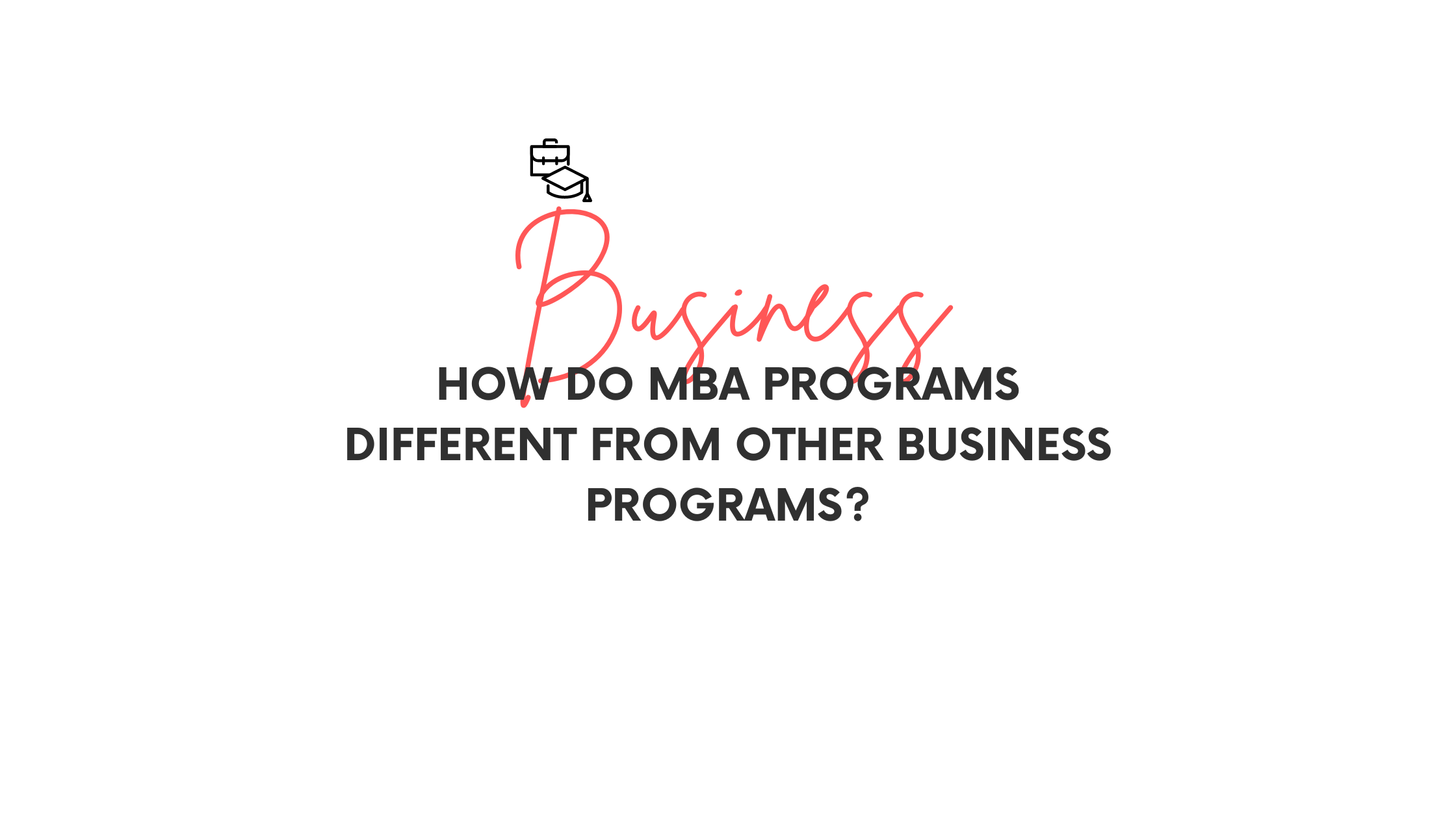 There have been many business programs in higher education institutions since universities became a thing. In fact, the first business school in the world, the École Supérieure de Commerce de Paris was founded in 1819. Now known as ESCP Europe, it is still running and is also one of the leading Business Schools in Europe. The first MBA program, on the other hand, was introduced by the Harvard Graduate School of Business Administration in the year 1908.
These days, MBAs are all the rage in professional and academic circles. While there are many other business programs offered in B-schools around the world, still, none have gained quite the same mainstream popularity as MBAs. In this blog, we try to find out why. So read on to know more about MBA programs and what gives them the edge over other business programs.


All About MBAs
An MBA or Master of Business Administration is usually a 2-year postgraduate degree program that teaches students all about running a business (or various parts of it). These programs are usually pursued by working professionals with a bit of experience under their belt already as MBAs are known to work exceptionally well in removing barriers to posts in higher management. Let us take a quick look at the various features of a typical MBA program through the table below.
Course Name - Master of Business Administration (MBA)
Level - Postgraduate
Duration - 2 years or more
Average Course Fee - INR 2 - 27 lakh and above
Mode of Study - Full-Time MBA, Part-Time MBA, Distance MBA, Online MBA, Executive MBA, and Integrated MBA
Admission Process - Entrance Exam + Group Discussion + Personal Interview
Common Entrance Exams - CAT, MAT, XAT, CMAT, NMAT, ATMA
Top Specializations - Sales, Finance, Human Resources, Marketing, Operations, Digital Marketing, Business Analytics
Average Starting Salary - INR 5 -25 LPA
Top Recruiters -Citibank, JP Morgan Chase, Facebook, Morgan Stanley, Google, Adobe, Mckinsey, Amazon, etc.
Eligibility Criteria
The eligibility criteria for getting into MBA degree programs differ from one college to another. There are some commonalities, of course - like the requirement for the applicant to have a graduate degree at the very least.
The differences start after that. The minimum pass marks upon graduation might be 50% in some colleges while it might be 60% for others. In terms of the entrance examinations too, this is true. Some colleges take admission on the basis of entrance exams but others like Arya College do not. Depending on the type of program and the B-school itself, the admission process might differ too - there might be subsequent rounds of PI (Personal Interview), WAT (Written Ability Test), and GD (Group Discussion) and students might need to submit SoPs (Statement/s of Purpose) or LoRs (Letters of Recommendation), or they might not need to.
MBA Specializations
Now, we come to the part where an MBA degree shines. MBA courses can be in general business but nowadays, they are offered with various specializations too that focus on a particular area. Candidates who choose these specializations get in-depth learning about the specific domain they have chosen to specialize in, along with the basic MBA syllabus being taught, of course.
Let us look at a few common specializations in the MBA courses list below.
MBA in Marketing
MBA in Finance
MBA in Human Resource
MBA in Information Technology
What Makes an MBA Different?
While there are plenty of business courses available in India both at the undergraduate and postgraduate levels, there are certain underlying reasons why MBAs have gained cult status. MBA colleges usually tailor their MBA courses to act as a bridge between studying business and experiencing business. Let us discuss some of the key differences between an MBA and other business programs in a little more detail.
Skills Imparted
One of the key differences you'll notice when you browse through the MBA courses list and details of any college are the complexity of the syllabus structure. There are usually modules that involve industrial visits, case-study-based projects, and lectures by industry experts on top of internships in a typical MBA program. These make for experiential learning as the students are trained in skills that they'd need to deal with in real life as high-level managers.
Other business programs more or less focus on the academic side of business studies though the lines are blurred when it comes to PGDM (Postgraduate Degree in Management) courses.
Employment Opportunities
Let us make things clear from the get-go by stating that other business programs offer plenty of great employment and career opportunities too. MBAs just do it better. For example, let us take the MiM (Master in Management) degree - a postgraduate course that is very popular in Europe and the US. This course is very similar to an MBA, except it is designed to cater to individuals with less or no experience (fresh graduates). Hence, the study material is not as in-depth as an MBA and the cost of this course is much lower too.
(Source: stoodnt.com)
The table above shows the average cost of MBA and MiM degrees in some of the best MBA colleges in the world. While MBAs globally are much more expensive than other business courses, they also offer better employment opportunities which the table below demonstrates clearly.
(Source: stoodnt.com)
Conclusion
MBA master degree courses do nail one thing almost always - and that is upskilling the students who successfully complete these courses. Whether it is a junior-level employee trying to break into management or a mid-management executive eyeing the top echelons of their field, MBAs usually get the promotion done. They can be great for pivots in your career too.
Of course, MBAs are more expensive and intensive than other business courses. But that's okay when you look at the return on investment that you get from MBA programs. The harder work and greater fees are easily compensated due to the high scope that the unique skills and experience you gain solving real-world problems in an MBA. Otherwise, recruiters would be crazy to offer higher-paid jobs to MBA students as compared to graduates of other business programs on the same level.
FAQs
What are some of the other postgraduate programs in business other than MBAs?
Some other postgraduate programs in business other than MBAs include PGDM, MiM, MMS, MCom, etc.
How much does an MBA graduate earn in India?
According to Payscale, the average MBA graduate's salary in India in 2021 was INR 7,71,801.
Can I apply to an MBA program without any work experience?
Yes. While it is recommended that individuals with experience in their fields apply to MBA courses, inexperienced people can apply for MBA courses too. The thing to keep in mind here is that some colleges have work experience as a mandatory requirement for candidates for their MBA courses, while some others, like Arya College, do not.
Which is the best entrance exam for MBA in India?
There is no best entrance exam for MBA in India. The most popular one is CAT which stands for Common Admission Test.