Four Things You Can Do In Arya College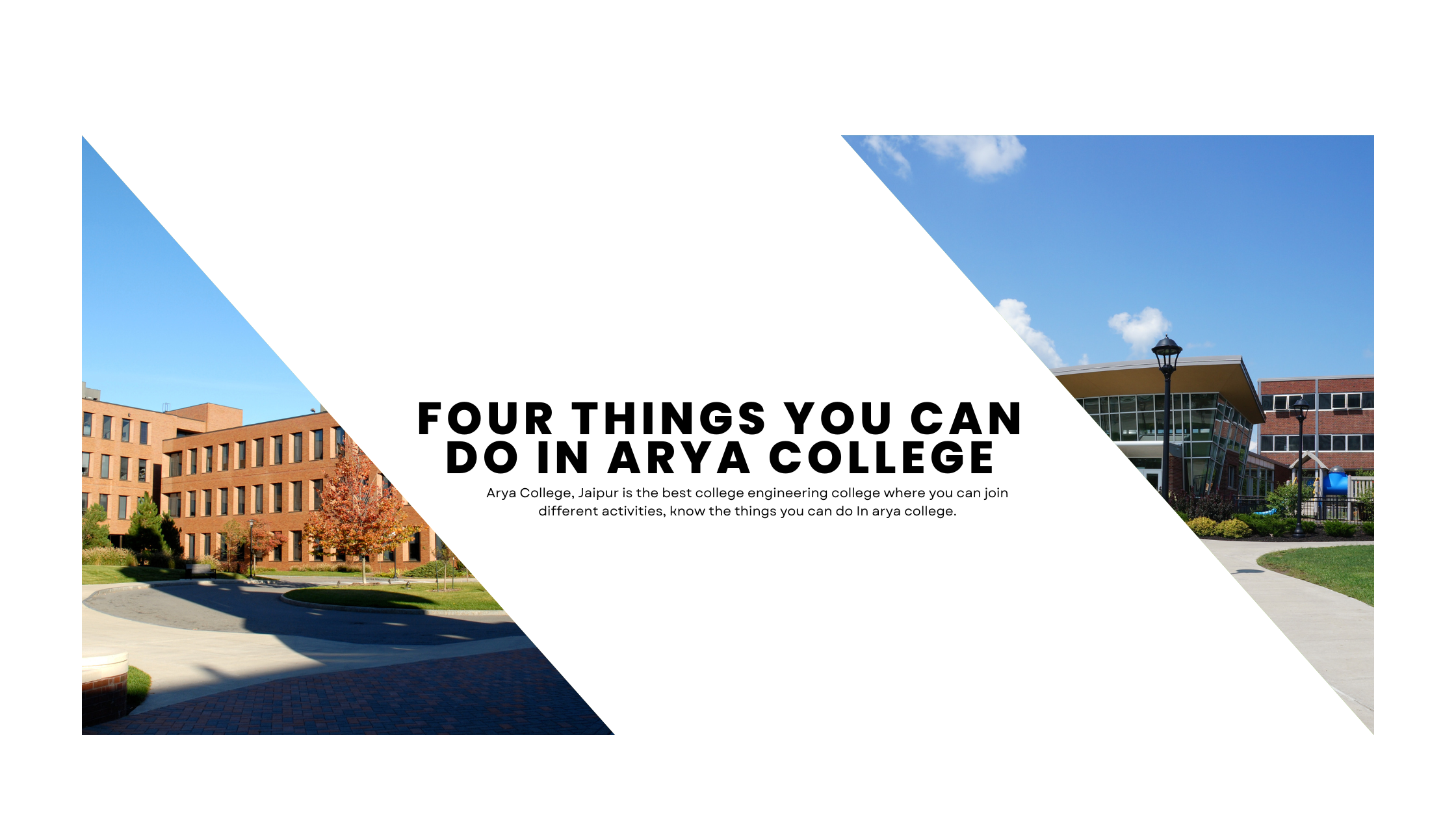 If you're looking for an exciting, vibrant and diverse place to study, then Arya College is the ideal choice. We offer a wide range of courses and qualifications at degree level, as well as many higher education. Our aim is to help you reach your full potential.
We have excellent facilities on campus – including state-of-the-art laboratories and IT rooms – plus plenty of opportunities to get involved in clubs and societies, sports teams or volunteering projects with local charities. You can also enjoy a wide range of cultural activities including trips to museums and theaters in nearby towns. So when it comes down to choosing a college for your studies: Why not choose Arya College, Jaipur?
Also Read - Why Sports and Sports Facilities are a Crucial Part of College Life
H2 - Take Part in the Many Clubs and Societies.
Arya College is the place to be if you want to get involved in the many clubs and societies that are available. There are so many options to choose from, whether you're looking for an activity that's fun or provides a learning experience, as well as ways for students to develop their skills.
You could join:
The debating society
The photography club
The creative writing group
H2 - Make the Most of the Library.
Arya College has a library that boasts a wide collection of books and resources. It is known for its rich collection of reference books covering all branches of academics -Science and Technology, Economics, Business Management etc. The library has been awarded as one of the Best Libraries in Rajasthan.
Along with the best collection of the books in Arya College, the library holds rich collection of magazines and periodicals like newspapers. The rich collection of books in the Library is always accompanied by a wide range of software and multimedia to enhance the learning experience with the support of students as well as teachers.
H2 - Meet new People at One of our Many Events.
One of the best ways to get to know people is to join an interest group, which are groups of like-minded students who meet regularly to discuss a topic they're passionate about. There are over 100 student societies at Arya College, including sports clubs and societies for art, music and theater.
You can also use our online chat room feature on the website or app to meet new people through messaging them directly!
H2 - Learn from our Expert Staff During Workshops and Lectures.
One of the best ways to learn is by participating in workshops and lectures. Our expert staff are always available to help you become a better student, so make sure you take advantage of these opportunities!
There are many types of workshops and lectures offered throughout the year at Arya College. Some focus on specific skills like writing or math while others address more general topics such as leadership skills or time management techniques. You can also find events by Career Guidance Cell that teach useful information about careers, current events or even hobbies such as gaming!
Also Read - Importance of Workshop and Seminar in Student Life
Come to our college and get your degree!
If you're thinking about coming to Arya College, here are four things that will make your transition easier:
H3 - We have a Variety of Courses.
Whether you're interested in law or engineering courses, we have a course that will suit your needs.
H3 - We have a Great Location!
Our campus is located right downtown and easy to get to by bus or subway. It's also close enough for those who prefer walking or biking (although we do recommend wearing protective gear).
H3 - We Have a Good Reputation Among Students.
Our student experience has been rated highly by national surveys such as the Princeton Review's "Best Value Colleges" list every year since 2011!
H2 - Conclusion
We're sure that you'll enjoy your time at Arya College. We have a lot to offer, from our fantastic student accommodation, to our fantastic facilities such as the library and sports center. You can also get involved in clubs and societies or attend one of our many events throughout the year. Come along and see what we have to offer!
H2 - FAQ
- What are the four things you can do in Arya College?
The four things you can do in Arya College include attending classes and lectures, participating in extracurricular activities such as sports and clubs, conducting research and projects, and networking with fellow students and faculty members.
- Is there a fee to participate in the activities offered at Arya College?
Yes, there are fees associated with participating in the activities offered at Arya College. These fees will vary depending on the activity.
- Are the activities offered at Arya College open to non-students?
It depends on the specific activity and the policies of Arya College. Some activities may be open to non-students, while others may be restricted to enrolled students only. It is best to contact the college directly or check their website for more information on which activities are open to the public.