Everything You Need to Know About an M.Tech in Computer Science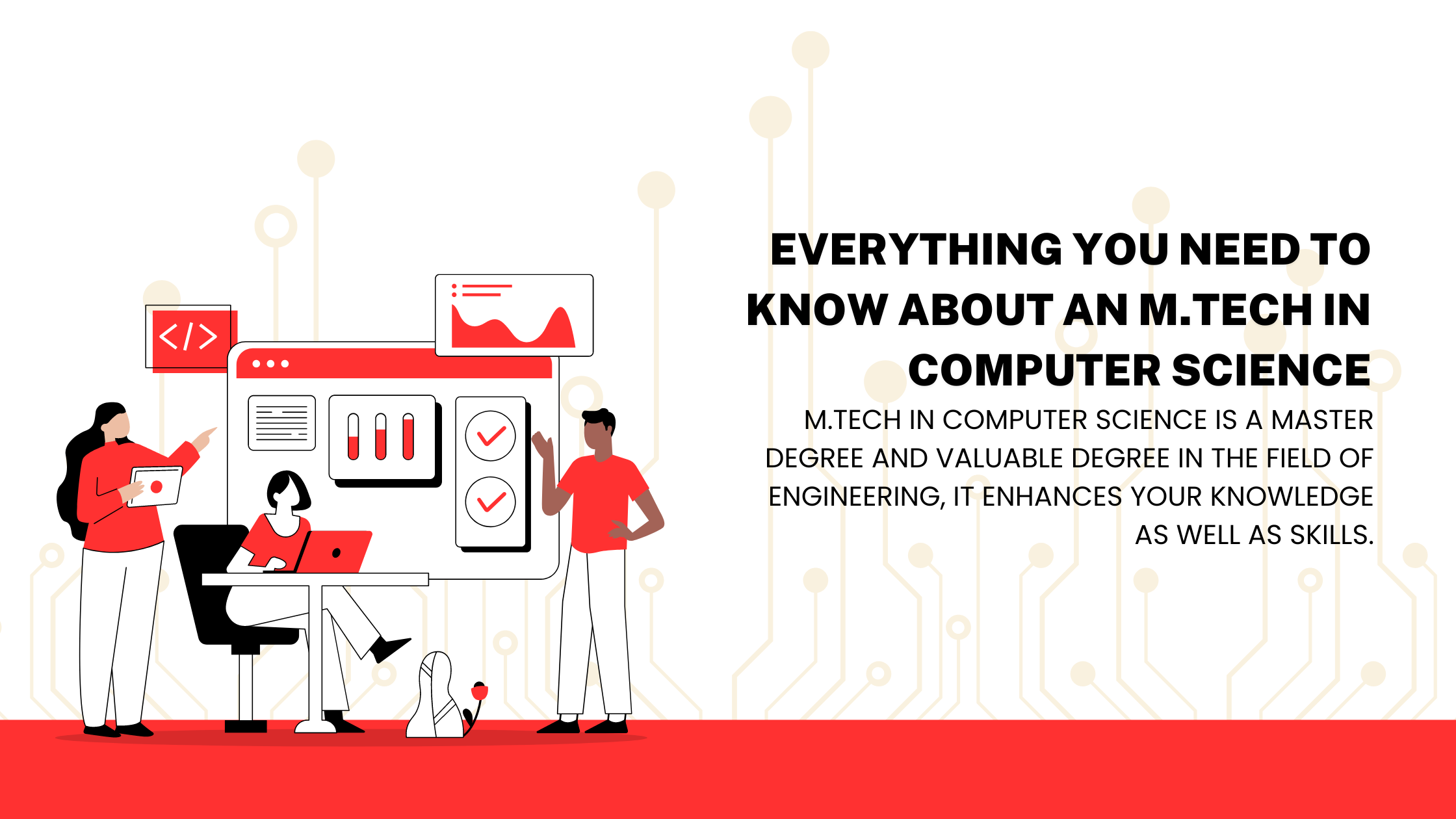 Everything You Need to Know About an M.Tech in Computer Science
Computers are at an interesting stage right now and it has various career opportunities, where we can't function without them (in urban society at least). They have become so integral in our lives since we began improving their underlying technology at an unprecedented rate when we realized the scope of computers as a subject of research, and where it might lead us in the future.
As a result, it has become increasingly clear to society that a career in computer science is only going to bring success. And to that effect, many colleges have popped up that offer various computer science courses all over the country. In this blog, we are going to look at one of these courses in great detail - M.Tech in Computer Science.


M.Tech in Computer Science Overview
Mtech CSE (Master of Technology in Computer Science Engineering), as the degree is also commonly known, is a postgraduate degree in the field of computer science. It builds on the lessons taught in an undergraduate engineering course in computer science and often trains the students to focus on a specific area of computer science.
The eligibility criteria to get into this course is usually 50% marks obtained in graduation in the relevant field, though some colleges take admission based on national or independent entrance examinations. The duration of this course is usually two years in most universities in India and is usually divided into 4 semesters, with two semesters each year. The highlights of this course are mentioned below.
Course Name - M. Tech CSE (Master of Technology in Computer Science)
Level - Postgraduate
Duration -2 years
Mode - Semester
Eligibility Criteria - 50% in graduation (BE/B.tech in relevant subject)
Fees - INR 50,000 - 3 LPA
Average Starting Salary - INR 3 - 7 LPA
H2 - Syllabus
The syllabus of an M Tech in Computer Science course is pretty elaborate, including knowledge about all the major developing technologies. This course is usually a mix of theory and practical and hence a lot of the learning takes place in a practical setting in labs.
Many colleges, like Arya College, have dedicated labs for teaching and research on different topics in the syllabus.
H2 - Specializations
There are many specializations a student studying in an MTech CSE course can choose from in their elective subjects, that are spread throughout the semesters. Specializing in a subject has the added advantage of landing jobs in that particular field, so students can have some option of working in the fields that they enjoy the most.
Let us look at some of the common specializations offered by colleges in India, and the estimated starting salaries of Mtech students who specialize in them.
Specialization and Average Starting Salary (INR)
Artificial Intelligence (AI) -2 - 4 LPA
Data Analytics -3 - 6 LPA
Cloud Computing - 2 - 5 LPA
Image Processing - 3 - 7 LPA
Information Technology - 3 - 10 LPA
Scope
The scope of the students who take up m tech computer science courses is infinite, as professionals who specialize in some or the other field of computer science are in high demand throughout the world, as technology embeds itself more and more into our lives. They can even choose to study further, opting for research-based, supplemental, or management courses to take their careers to greater heights.
Higher Education Options
Some of the common higher education options that Mtech in CSE graduates from Arya College Jaipur can opt for include:
Common Job Roles and Salaries
Let us now look at some of the common job roles that M.Tech in Computer Science graduates get hired for, their responsibilities, and the average salary they can expect for that role.
In the field of technology, various career paths offer opportunities for professionals to excel. One such role is that of a System Designer, responsible for overseeing the maintenance, repair, and replacement of networks and systems within an organization. With an average annual salary ranging from 3.5 to 5 lakhs INR, System Designers play a crucial role in ensuring the smooth functioning of technological infrastructures.
Another rewarding career option is that of a Technical Analyst, specializing in observing, analyzing, and predicting market trends, particularly in the stock market. With an annual salary ranging from 6 to 8 lakhs INR, Technical Analysts apply their expertise to interpret data, identify patterns, and provide valuable insights to investors and financial institutions.
For those inclined towards software development, the role of a Programmer offers exciting prospects. Programmers are responsible for the planning, design, testing, maintenance, and deployment of software in an organization. With an annual salary of 4 to 5 lakhs INR, Programmers utilize their coding skills to create efficient and innovative solutions.
Web Developers, on the other hand, focus on designing and developing code and graphics for web-based platforms, such as websites and instant applications. With an annual salary ranging from 2.75 to 3.6 lakhs INR, Web Developers combine their creative and technical skills to create visually appealing and functional online experiences.
Lastly, IT Consultants work on a contractual basis with clients, offering their expertise in designing, developing, and operating IT networks and solutions. With an annual salary range of 6 to 8 lakhs INR, IT Consultants provide valuable advice and guidance to organizations, helping them optimize their technological infrastructure and achieve their business objectives.
These various technology-related roles present exciting opportunities for professionals to pursue their passions and contribute to the ever-evolving world of technology.
Top Recruiters
Some of the top companies that recruit students of Mtech for CSE are:
Capgemini
TCS (Tata Consultancy Services)
Infosys
IBM
Cognizant
Zycus
Accenture
HCL
Amazon
Tech Mahindra
Wipro
Conclusion
When you compare the estimated fees of an MTech in CSE degree to that of the estimated starting salary of a graduate of the same, it looks like a good investment on paper as long as the return on investment is considered. A good investment is truly an apt summary of an M.Tech in Computer Science degree as it opens up the door to lots of opportunities in the computers and technology sector, where the demand is as much as the money to be made. No wonder so many computer engineers come out of our country every year.
FAQs
Which field in CSE has the highest salaries?
Software engineers usually have the highest salaries so the answer would be software engineering.
Will M.tech increase my salary over a B.tech?
Yes. Since it is a postgraduate degree that goes much more into detail than a b.tech degree can, having an M.tech degree can land you higher salaried jobs than you would get with just a b.tech degree.
Which are the most in-demand specializations in Mtech CSE right now?
The specializations that are most in demand in Mtech CSE right now are Artificial Intelligence and Data Analytics.
What is BE and how does it make students eligible for Mtech?
BE stands for Bachelor of Engineering. It is the equivalent of a B.tech or Bachelor of Technology. Both of these courses are undergraduate degrees in engineering and hence passing them means being eligible for an M.tech.