Benefits of Pursuing Mechanical Engineering Course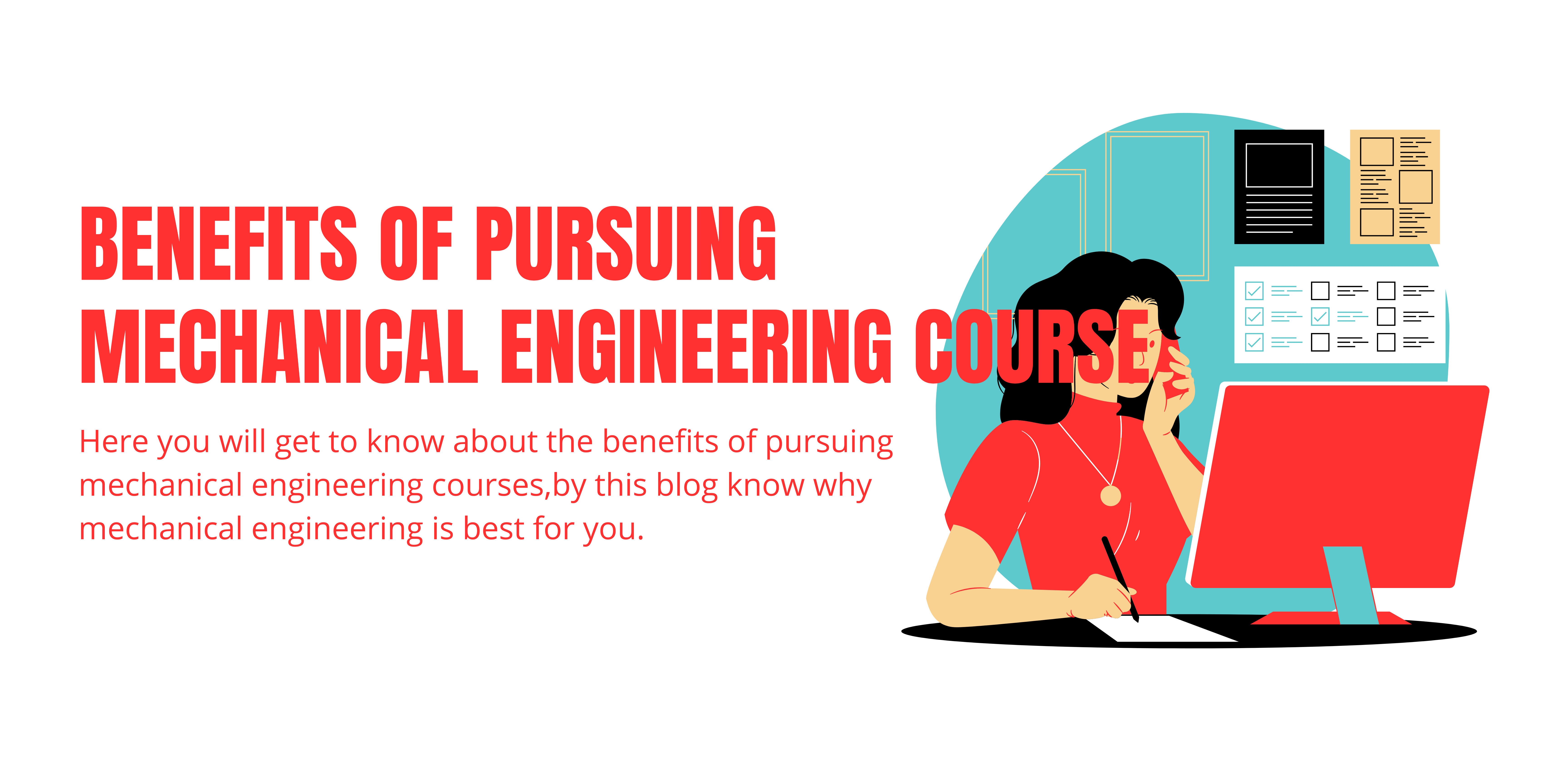 Due to its versatility and variety of job options, mechanical engineering has been a popular course of study among students. Every year, almost 1.5 million engineers graduate in India; of these, 2,66,666 belong to the mechanical engineering discipline. Moreover, mechanical engineers like Suhas V. Patankar and Man Mohan Suri among others were created in a nation like India. But are you unsure of the benefits this degree can have or the career opportunities it might present? If so, you can read our blog post where we will talk about the mechanical engineering course and how this multifaceted degree has the potential to influence everyone's life in some way.


Mechanical Engineering- Course Overview
With a degree in mechanical engineering, students learn the fundamentals of how large tools and machines operate, and they get to learn how to design cars, electric motors, aeroplanes, and other heavy vehicles. Mechanical engineers create everything from brand-new batteries, sports equipment, and medical devices to computers, air conditioners, car engines, and electric power plants. A few highlights related to a Bachelor of Mechanical Engineering are discussed here:
Course Level -Undergraduate
Duration -4 Years
Mode-Semester
Minimum Eligibility Criteria
Students must have passed the Class 10+2 exam from an accredited board with Physics, Chemistry, and Mathematics as their core subjects.
They should have received a minimum of 45% to 50% overall in the subjects mentioned above. Candidates from the reserved category with an overall score of 40% are approved.
Average Course Fee - INR 1 - 15 lakhs or above
What Makes Mechanical Engineering an Appealing Degree?
Here is a discussion of a few aspects that encapsulate the benefits of enrolling in a mechanical engineering academic program:
A broad Range of Knowledge
Getting a mechanical engineering degree will expand your knowledge in a wide range of subjects while studying this degree, including chemistry, physics, the English language, structures, electricity, and computer applications. Also, you will have a thorough knowledge of engineering's economic, social, and environmental implications. As a result, in addition to developing your expertise in your primary subject, you will also increase your general knowledge.
Several Career Alternatives
There are numerous specialities in the discipline of mechanical engineering, including those in the fields of marine engineering, aerospace engineering, automobile engineering, biomedical engineering, manufacturing, machine design, etc. As a result, you have a range of career routes to select from depending on your interests and skills. While the number of mechanical engineering jobs is predicted to increase from 9% to 11% by 2026, let us look at some of the best job options in this field:
Job Profile and Average Salary (per annum)
CAD Technician -INR 5LPA
Mechanical Engineer -INR 3.6 LPA
Maintenance Engineer -INR 3.3 LPA
Automotive Engineer -INR 6 LPA
Nuclear Engineer -INR 16 LPA
Mining Engineer -INR 4.6 LPA
Control and Instrumentation Engineer-INR 5.7 LPA
Water Engineer-INR 4.2 LPA
Manufacturing Manager -INR 14.1 LPA
Aerospace Engineer -INR 7.9 LPA
Exposure to Opportunities Abroad
A Mechanical Engineering course will offer you a fantastic opportunity to look for career responsibilities both domestically and internationally. Every nation has its engineering initiatives, and so every nation has a significant need for mechanical engineers to plan, build, and maintain its infrastructure. This is a fulfilling job choice that won't confine you to only your home country.
Get a Competitive Salary Package
As mechanical engineers are in high demand, they are handsomely compensated. A number of important considerations, including the candidates' experience and talents, the company's location, its size, etc determine the mechanical engineer's salary in India.
Adaptable Skills
Practical knowledge of mechanical engineering is useful in every industry. You can gain a wide range of skills from mechanical engineering study programs, including those for problem-solving, teamwork, advanced technical, academic writing, and decision-making, which will prepare you to handle a variety of scenarios and come up with workable solutions to challenges in any industry.
Contribute to Society
You can transform the world with the help of a mechanical engineering course and your hard work. Mechanical engineers created the modern conveniences that are now a necessary part of everyone's lives. As a result of these contemporary inventions making life easier, people have grown to be very dependent on them.
Different Industries to Recruit Mechanical Engineers
Automotive Industry
Defense
Aerospace Industry
Thermal Plants
Robotics Industry
Research and Development
Smart Manufacturing Industry and IoT (Internet of Things)
Design, Production, Analysis, and Testing
Steel Plants
Some of the top mechanical engineering companies in the world, ranked by revenue, are shown in the following graph:
Source: bizvibe.com
Best Engineering College in India- Arya College
Among the prestigious colleges, the best undergraduate engineering degrees are offered by this college in Jaipur. Here are some of the reasons for enrolling in its BTech in Mechanical Engineering:
Its curriculum is balanced with intensive training in cutting-edge mechanical engineering labs, and the course is aligned with industry standards as well as geared to cater to prospective improvements within the sector.
Its faculty unit is also made up of experts who teach mechanical engineering to students according to the demands of the industry.
Students are educated to master corporate interviews through its dedicated placement cell, which also manages their training and placement in top-tier reputed companies.
Moreover, the courses offered in Arya College Jaipur are affiliated with Rajasthan Technical University and have received approval from AICTE. Such accomplishments enable students to apply for bank loans from reputable nationalized and private-sector banks.


Conclusion
Conclusively, mechanical engineering is one of the most diverse engineering fields that combine innovation, expertise, and analytical skills to successfully fulfil the challenging work of turning a concept into reality. Furthermore, a mechanical engineering course forms the basis of all modern technology and can boost your chances of landing a great job and get you started on a rewarding career.


FAQs
What are the various subjects that a mechanical engineering course covers?
Fluid Mechanics, Machine Design and Development/Automotive Design, CAD, Mechatronics, Kinematics, Automation and Control Systems, and Robotics are among the crucial areas of study in this area of engineering.
Which tools are frequently used by mechanical engineers?
Screwdrivers, 3D printers, Graphing calculators, Digital force gauges, callipers, Vibration isolators, Flow meters, and Ohmmeters are a few tools required by mechanical engineers.
Which nations require the maximum number of mechanical engineers?
China, the United States of America, Germany, and France have the largest need for mechanical engineers. This is because they want them to develop and build machinery and other equipment for their businesses.
Is it stressful to work as a mechanical engineer?
Yes, mechanical engineers must continually design, build, and test mechanical and thermal equipment, so their jobs may be stressful. The Bureau of Labor Research estimates that almost one-third of mechanical engineers put in more than 40 hours per week.