BENEFITS OF M.TECH DEGREE FOR ENGINEERING GRADUATES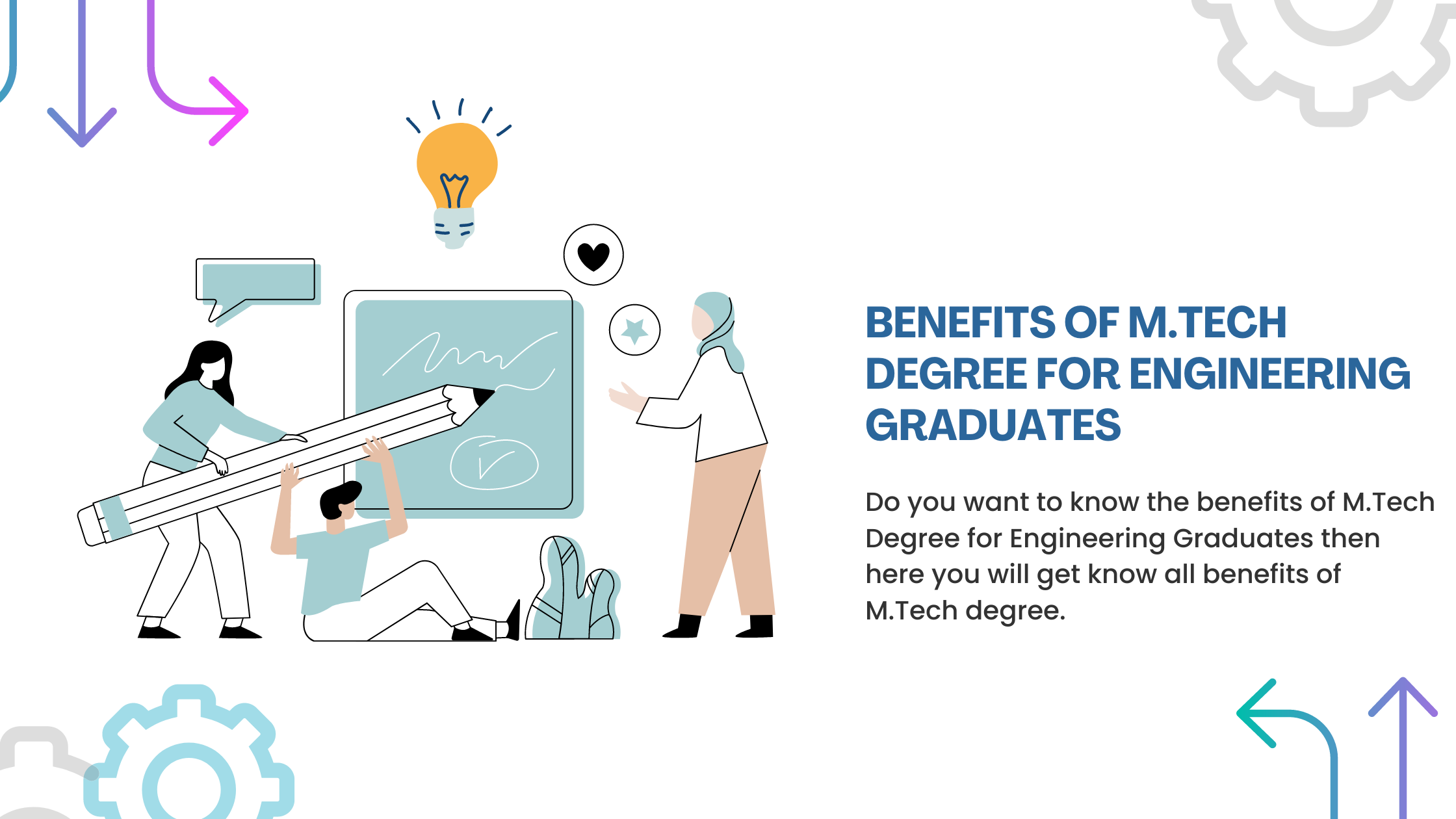 Are you a B Tech graduate struggling to decide whether to go for MTech or opt for a job? Well, this confusion lies with many B tech graduates and your decision should always be based on your career goals. This blog will help you understand the benefits of pursuing an M.Tech degree so that you can decide your future course of action.
MTech Course
A master of technology is a postgraduate degree in the field of engineering. This course focuses on providing an in-depth understanding of chosen specialization. Students usually opt for this 2-year course after completing their B Tech program.
MTech Course Details
Course Level - Post-Graduation
Available Streams
Electronic & Communication engineering
Civil engineering
Computer engineering
Electrical engineering
Available seats - 18 seats per stream
Course fee - 96,104 INR per annum (Tuition fee)
Eligibility
To pursue an M tech course, candidates must have a Bachelor's degree in a relevant field and must have scored a minimum aggregate of 55% marks in B. Tech.
Admission process - Admission will be granted based on the merit list.
Required Skills for M. Tech Jobs
Below mentioned are the essential skills required to have a successful career in engineering jobs-
Critical thinking
Interpersonal skills
Strong communication skills
Managerial and leadership skills
Knowledge of using software and technologies
Benefits of M.Tech Degree for Engineering Graduates
Enhanced Subject Knowledge
In Mtech, you will get the opportunity to gain detailed knowledge of the subject matter. This will help you achieve expertise in a subject matter which is not possible in the case of BTech. And this enhanced subject knowledge will give you an added advantage over your competitors.
Helpful in Making a Career in the Research Field
There will always be a sufficient number of occupations focused on research. And if you are seeking research-based employment, an MTech engineering degree will help you get one. It can be helpful since it will provide the knowledge, and expertise of the subject matter.
Helps in Building a Professional Network
Due to the course's extensive industrial tours, eminent leader lectures, internships, etc., pursuing an M.Tech also helps students' professional networks grow.
A Path Toward a PhD.-
For doing a PhD you need to have a master's degree. An M.tech degree will build a foundation for your research work and with a good score in M.tech, getting a PhD seat in a reputed University will become easier for you.
High Salary Package
Multinational companies and big corporate houses look out for candidates with proficient knowledge. By pursuing an M. Tech after earning a B. Tech, students have a better chance of being hired by reputable companies with high pay packages than those who get employment immediately after earning an engineering degree.
Source: Payscale (self-created)
With the above graphs, you can easily understand how after M tech salaries of different job positions have increased. And you can also notice the change in job positions from civil engineer to structural engineer and data analyst to data engineer.
Promotion
Companies place a lot of emphasis on a candidate's qualifications and knowledge while considering whether to promote them or not. And an M. Tech degree may be able to aid you in moving up the career ladder if you pursue this postgraduate program.
Career Scope
With a Mtech degree, you will have wide career scope in the future. As Mtech opens the door for numerous career opportunities in the public and private sectors. You will get job opportunities in information technology, banking, aeronautical firms, automobile, education sector, etc. Some of the job opportunities after M tech are-
Aerospace Engineer
Safety Officer
Software Engineer
Automation engineer
Data Analyst
Robotics Engineer
Research Associate
Cyber Security Architect
Programmer Analyst
Service Maintenance Engineer
Design Engineer manager
Network Specialist
System Designer
Embedded Design Engineer
Arya College- One of the Top Mtech Colleges in Jaipur


One of the M tech graduates was offered the highest salary of 10 Lakh per annum.
In the year 2022, 95% of students were placed in the leading national and international organizations.
Companies like Amazon, IBM, HCL, Infosys, Wipro, Syntel, etc. visit the campus for campus recruitment.
Arya College, Jaipur has an industrial alliance with more than 75 organizations.
Fully equipped traditional and digital libraries to facilitate students' learning.
A comfortable learning environment with all the amenities such as hostel facilities, cafeteria, transportation, sports facilities, etc.
Experienced and trained faculty members.
Conclusion
M.Tech is the best option for people who want to advance their careers in technical jobs or enter into the academic field. We hope the aforementioned benefits of the M. Tech degree are strong enough to persuade you. And, if you are a B. Tech graduate, don't lose time and begin working towards this master's degree with a prominent engineering college in Jaipur.
Frequently Asked Questions
What are the subjects taught in the electronic and communication stream of M Tech engineering?
Subjects taught in the electronic and communication stream of m-tech engineering are wireless networks, digital electronics and communication, VLSI technology and process modelling, Computer graphics and visualization, telecommunication switching and network, optical communication systems, etc.
Is M Tech better or MS?
Both degrees have their own importance and you should choose your post-graduation degree based on your career goal. If you want to pursue a job in the technical field then M tech is better for you and if you want to gain scientific knowledge then MS is better.
Can I pursue Mtech without GATE?
Yes, you can. There are various universities and private colleges such as Arya college Jaipur that give admission to students without GATE. You need to check out the eligibility criteria of the colleges you are aiming to get admission.
Which engineering has the highest scope in foreign countries?
Aeronautical engineering, civil engineering, electrical engineering, and computer engineering are some of the engineering streams that have the highest scope in foreign countries like Canada, France, the United States, New Zealand, etc.