Arya College: Empowering B Tech Students with Quality Education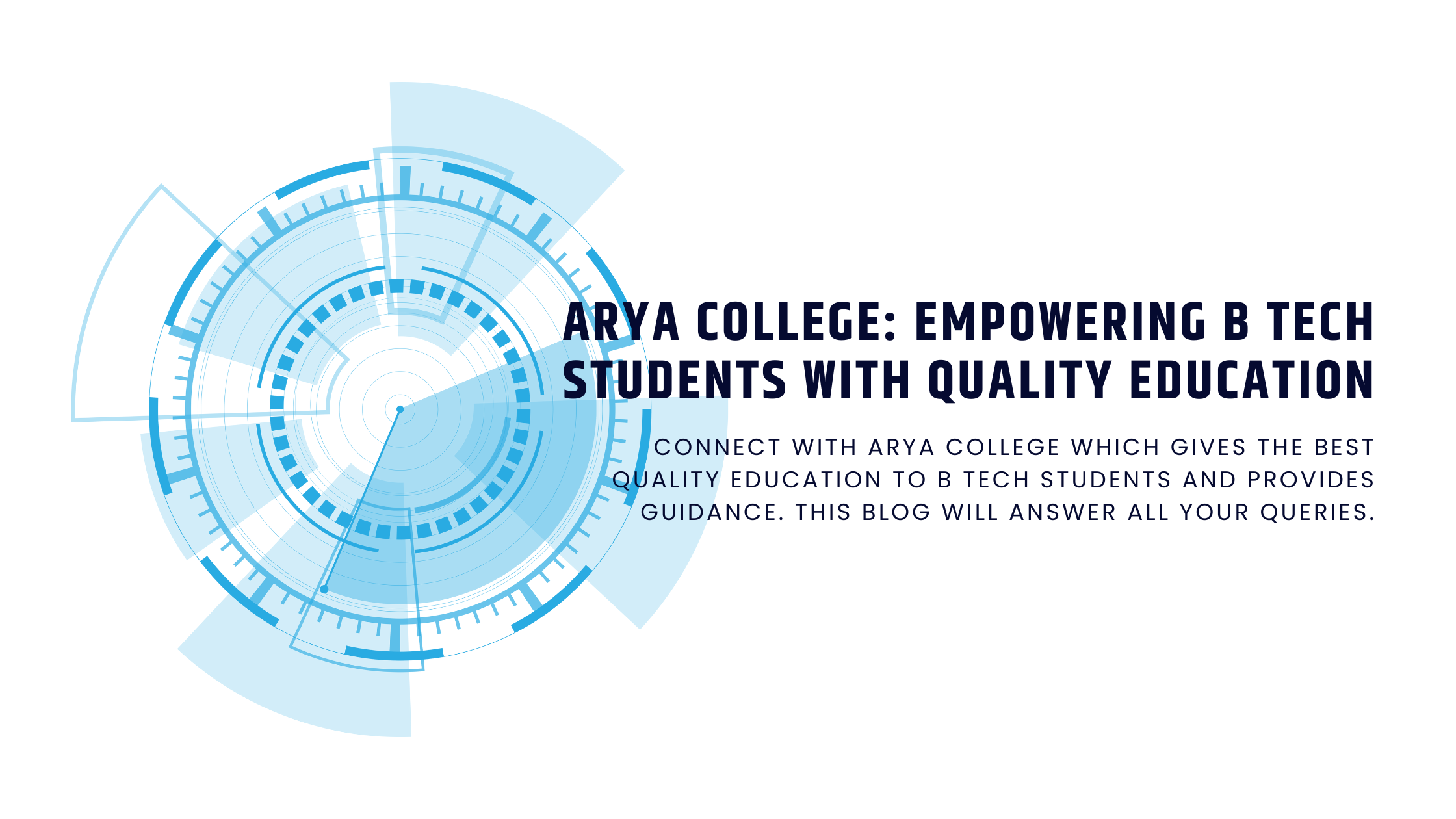 Arya College is one of the best engineering colleges in Jaipur. It is also a member of the prestigious Arya Group of Colleges and Universities. The college has always focused on providing quality education to its students. It provides high-quality infrastructure and facilities, world-class teaching methodologies, industry-oriented training programs, entrepreneurship programs, and initiatives to support B Tech students who want to start their own businesses. Here are some more reasons why you should choose Arya College for your B Tech degree:


B Tech program Offered by Arya College Jaipur
The B Tech program at Arya College is approved by AICTE. Arya College offers a wide range of courses in engineering, technology, management, and education. It has an excellent infrastructure and facilities to support the learning process.


Campus Life and Student Support
Arya College provides a conducive environment for students to learn and grow. The college has an excellent student support system, which includes the library and computer lab. The library houses thousands of books on various subjects, making it easy for the students to find what they need. It also has a large collection of journals, magazines, newspapers, and other related reading material that can be used by both faculty members and students alike.
The computer lab at Arya College is equipped with the latest technology so that our students get trained on using these machines effectively before joining any job after graduation from our college.


Excellent infrastructure and facilities.
Arya College is located in Jaipur, a city that has a rich history and culture. The college boasts of excellent infrastructure and facilities for students to study in.
The campus consists of well-equipped laboratories, libraries, and other amenities that help students to perform better academically. In addition to this, the college also has a well-stocked library with thousands of books on different subjects such as science and commerce, etc., which are accessible round the clock for students to use.
In order to keep the students physically fit during their stay at Arya College Jaipur (ACJ), there is an exclusive gymnasium available within its premises where they can go for workouts whenever required without leaving their hostel rooms!


Fosters a culture of research and innovation
Arya College fosters a culture of research and innovation among B Tech students. It has a strong research culture and provides ample opportunities for students to participate in research projects, both at the college level and externally. Students have the opportunity to work with faculty members who are experts in their respective fields or areas of interest, helping them gain valuable experience while working towards completing their degrees.
The college also boasts several state-of-the-art laboratories equipped with sophisticated equipment such as scanning electron microscopes, Fourier transform infrared spectrometers (FTIR), gas chromatographs, etc., which enable students to carry out experiments under controlled conditions so that they can get accurate results without any external interference or influence from outside factors like weather conditions or temperature variations, etc.


Entrepreneurship programs and initiatives
Arya College has a strong culture of entrepreneurship, which has helped students start their own businesses. The college offers several programs and initiatives to support B Tech students who want to start their own businesses. For example, the Arya College Business Plan Competition allows students to present their business ideas and receive feedback from industry experts.
Additionally, Arya College provides access to funding opportunities through its Entrepreneurship Development Cell (EDC) or Center for Innovation and Incubation (CI&I). This provides resources such as mentorship programs, networking opportunities with local experts/entrepreneurs/investors, etc., which can help you build your business plan into a reality.


Industry-oriented training for B Tech students
Arya College provides industry-oriented training to B Tech students. The college's B Tech program is designed to prepare students for careers in the engineering, science, and technology fields.
The curriculum at Arya College includes state-of-the-art facilities such as laboratories equipped with the latest equipment for conducting practicals on core subjects such as Mathematics; Physics; Chemistry; Information Technology etc., so that students can gain hands-on experience before entering into an actual work environment after graduation from our college.


Placement and Career Opportunities
A strong alumni network is an important part of any college or university. You can be sure that Arya College has a good alumni network, especially since it has been around for so long.
The placement record of a college or university is an important factor to consider when choosing which school to attend. Many students choose their universities based on their placement records, as well as their reputation among employers and other students. You can be sure that Arya College has a good reputation among both employers and fellow students because it offers excellent degree programs in various fields of study such as engineering and technology, management studies, etc., which will help you get a job easily after graduating from this school if you choose one of these fields as your major during B Tech Degree Program at Arya College Jaipur.


Conclusion
Arya College has a rich history and reputation for providing high-quality education. It is one of the most sought-after colleges in India, with its alumni including some of the country's most successful businesspeople and politicians. The college offers excellent facilities for its students, including well-equipped classrooms, laboratories, and libraries stocked full of books on various subjects such as mathematics or physics.