Arya College of Education: Providing Quality Education and Opportunities for Students to Excel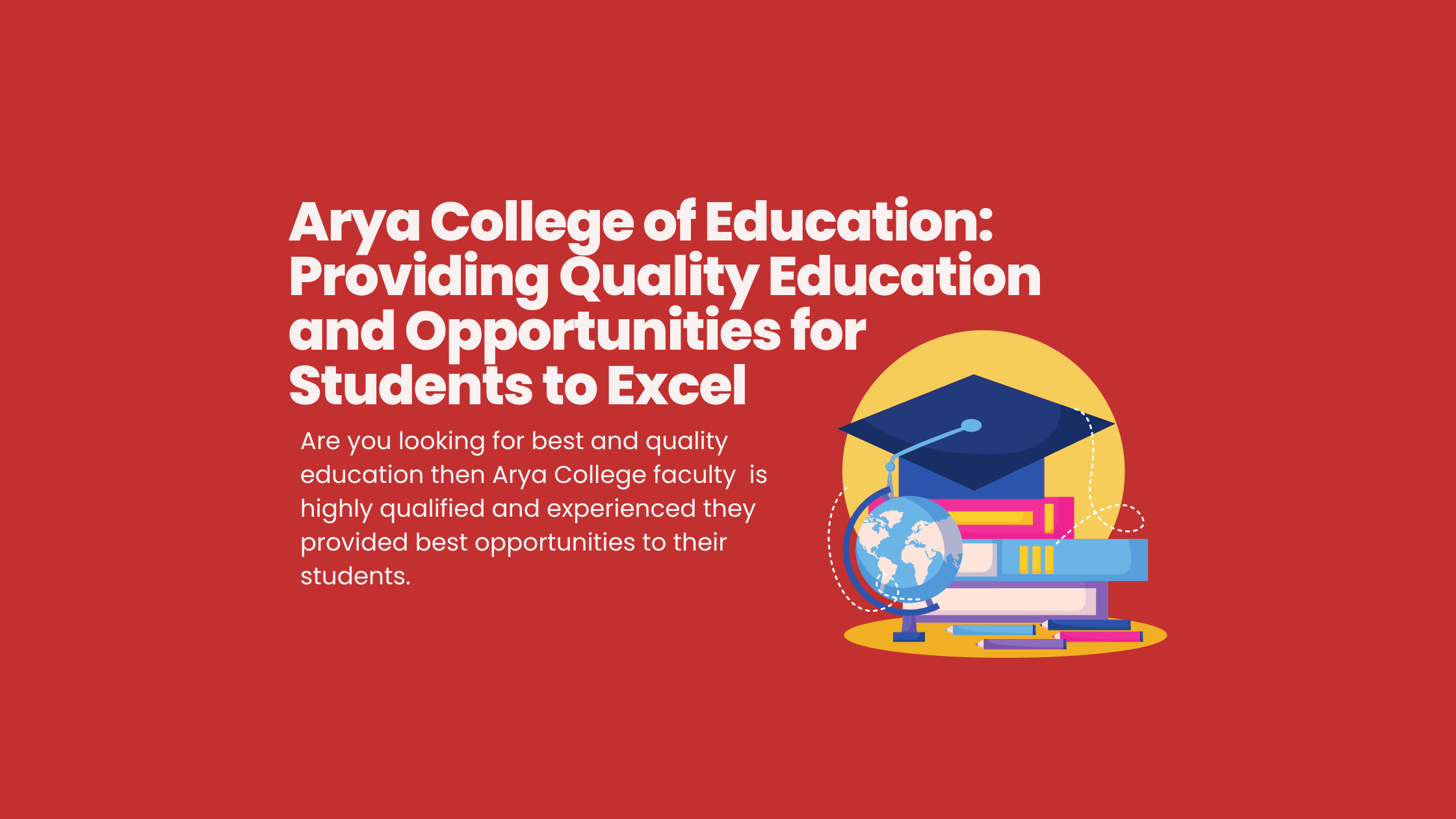 The Arya College of Education is one of the country's best Engineering colleges in India. It offers a wide range of courses and programs in undergraduate, postgraduate and doctoral levels in various disciplines including arts, science, commerce and engineering.
High-Quality Education
Arya College offers a wide range of courses and programs in various disciplines. The college is recognized by many industry bodies such as NBA and NAAC. It has a strong track record of academic excellence.
Students can choose from among over 15 undergraduate courses at Arya College including engineering (BTech and M.Tech courses), Pharmacy, Management etc., along with postgraduate programs in management studies or economics. Students are also able to pursue research opportunities.
Affordable Fee Structure
The Arya College has a good reputation for offering affordable education. The college offers quality education at affordable prices, and this is one of the main reasons why students choose Arya College for higher studies.
Students who want to pursue their bachelor's degree from a reputed institute but don't have enough money to pay high fees can choose Arya College as an option because it offers them low tuition fee structure along with good quality education and facilities like hostel facilities, canteen etc., which are not available at other colleges within their budget range


Eligibility for Scholarships and Grants
Scholarships and grants are available for students who are from economically weaker sections of society. Scholarships are awarded to academically talented students, while grants are given to those who have done exceptional work in their field.
The government has provided financial assistance to many deserving applicants so that they can pursue higher education without any difficulty.
Accreditation- NAAC and NBA.
The National Assessment and Accreditation Council (NAAC) is an autonomous body for accreditation of higher education institutions in India. It was established in 1994, under an Act of Parliament and has its headquarters at Bangalore.
The National Board of Accreditation (NBA) is a premier body for accreditation of engineering colleges in India. It conducts site visits to colleges across India every year to assess their performance against national standards. Arya College has been accredited by both these bodies.*
Focus on Academic Excellence and Innovative Teaching Methods
Arya College is an educational institution that focuses on academic excellence and innovative teaching methods. The institution has a well-qualified team of teachers who are committed to providing quality education to students. They use interactive methods of teaching so that students can learn effectively and quickly.
The curriculum followed at Arya College has been designed by experts in their respective fields, which helps them gain expertise in the subject they wish to pursue after graduation.


Wide Range of Courses and Programs Offered
Arya College offers a wide range of courses and programs at the undergraduate, postgraduate, and doctoral levels. The college offers various programs in different disciplines such as engineering, management, medicine, science and humanities.
Students can choose from a wide range of courses including bachelor's degree programs like Mechanical Engineering (BE), Electronics & Communication Engineering (ECE), Information Technology(IT) etc., Master's Degree Programs such as MCA(Master of Computer Applications), MBA(Master Business Administration), MSc Computer Science & Engineering(MCS&E).


State-of-The-Art Infrastructure and Facilities
Arya College has a well-equipped campus that offers state-of-the-art infrastructure and facilities for students. The college is equipped with modern classrooms, Wi-Fi enabled campus, well-equipped labs and comfortable college hostel. Students can also avail medical facility at the campus along with sports facilities such as cricket ground, badminton court etc.


Opportunities for Research and Internships
The Arya College offers a wide range of research opportunities for students. It also provides them with the opportunity to get involved in internships and gain practical experience.
Students can do their own research projects or participate in faculty-led research projects on topics such as:
Economics, finance and business management
Social sciences (including psychology, sociology and political science)


Strong Industry Partnerships and Placements
Industry partnerships are an important part of the Arya College experience. We believe that industry plays a vital role in education, and so we have partnered with several companies to help our students prepare for their careers. Our strong relationships with companies like Amazon and Google mean that our students have access to internships and job opportunities when they graduate.
We understand that getting a placement right after your graduation is crucial for your future career prospects and professional growth. To ensure this happens at Arya College, we offer a range of courses designed specifically with industry needs in mind:
Programming Languages Courses - Python/JavaScript/Ruby on Rails (ROR)
Database Management Systems Courses - SQL Server/Oracle Database Management System (DBMS)




Conclusion
Arya College offers a high-quality education at an affordable fee structure. It is also accredited by corporate bodies such as NAAC and NBA, which gives students greater confidence in their choice of institution. The focus on academic excellence and innovative teaching methods ensures that you receive the best possible preparation for your future career