Why Sports and Sports Facilities are a Crucial Part of College Life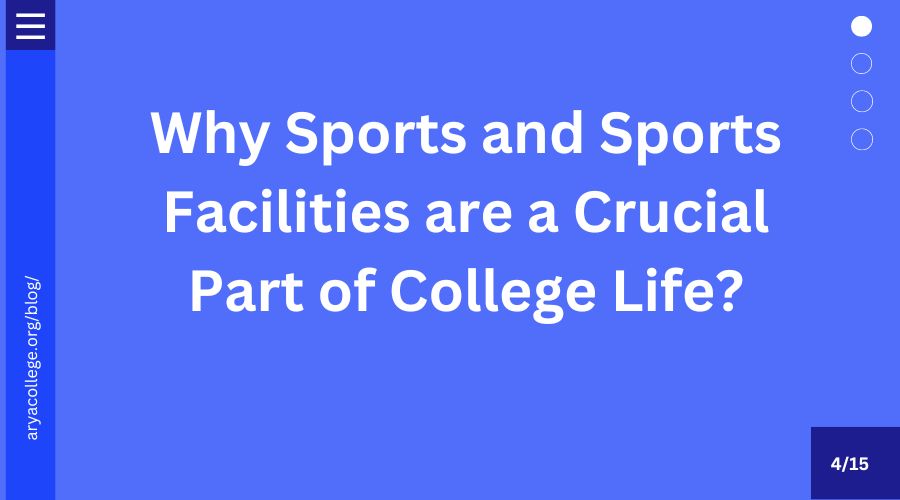 Why Sports and Sports Facilities are a Crucial Part of College Life
There are multiple reasons universities invest in improved athletic and wellness facilities, and the advantages are not limited to athletics.
Hence, why do Schools and Colleges need Sports Facilities? Recreation facilities, we know, contribute to happy, healthy communities. This is particularly true when it comes to a population's youth. The correct supervision is crucial to a child's growth, and high school and college students benefit from ongoing help as they prepare for life's difficulties. These are some of the benefits that universities receive when they give their students high-quality sports and wellness facilities.
But What do You Understand by Sports Facilities?
Enclosed gymnasiums, pavilions, stadiums, and swimming pools are some sports facilities examples. In addition, members of the general public congregate at boxing arenas, billiard halls, health spas, bowling and ice rinks, bowling alleys, and other similar locations to engage in physical activity, compete in athletic competitions, or watch sporting events.
Every good college- from IITs to VITs and BITS to Arya College Main Campus- understands the need for good sports activities for their students.
What is The Importance of Sports Facilities in College?
So, it is often a question why sports facilities are required in college? What is the importance of facilities and the equipments? Here are the reasons;
Boosting and Enhancing Academic Performance
Physical activity has been shown to improve IQ, Fitness, and health. Higher levels of oxygen delivered to the brain increase the mind's capability. Exercise also promotes neuron development and the release of important hormones for brain health. Aerobic exercise improves cognitive abilities, weightlifting improves memory, and yoga makes it easier to complete mental tasks.
Longer attention spans and sharper focus can be aided by high-intensity interval training (HIIT). During their first two years of college, Michigan State University (MSU) students who were members of campus recreation and fitness centers had higher cumulative GPAs, more credits completed, and greater retention rates, according to a 2014 study.
Increasing Usage by Improving Existing Sports and Wellness Facilities
Upgrading existing athletic and wellness centers have been demonstrated to increase usage time and time again. Better fitness facilities and well-kept recreational spaces can even entice first-time visitors to come and begin an active lifestyle. Adding additional sports programs and wellness centers to existing facilities will allow kids to compete, engage, realize their physical potential, and learn about holistic health. In addition, they have more opportunities to develop their interests, hobbies, and abilities due to the variety.
Increasing Enrollment
Tuition fees are used to fund and operate most colleges. Every school management considers attracting promising young brains to be a top concern. Offering appealing sports and fitness programs can enrich a campus, attracting curious children and parents to enroll. Investing in recreation facilities and sponsoring college athletics will pay off in the long run and build brand recognition through participation in national tournaments.
Social Skills Development
Outside of the classroom, sports clubs and group exercise programs allow children to interact with one another. Individuals from various school levels, backgrounds, and departments come together for such activities. They help college students refine essential social skills such as mingling, competition, and cooperation by strengthening relationships between disparate groups.
Building safer and Stronger Communities
Through sports and leisure, kids can share their experiences, struggles, and accomplishments with faculty members, a school, and the community. Healthy activities can help at-risk kids shift their focus from anti-social conduct to good endeavors. This sense of belonging and self-assurance can also help avoid drug use, develop respect, and deter criminality. A safe and affluent community provides care, coaching, and well-rounded education for its children.
Now, What are The Importance of Sports For Students?
When it comes to sports, we frequently get asked, "What is the significance of sports in a student's life?" No matter how important studies are, we cannot deny that sports play a role in a student's general development and evolution. We all know that many notable athletes, such as Rahul Dravid and Anil Kumble, were excellent students but chose to pursue athletics careers.
Do you know that these Indian cricketers were studying Chartered Accountancy and Engineering before abandoning their degrees to pursue cricket? Moreover, the rest, as they say, is history! Not to mention, they have had much success that well exceeds their goals.
Sports are good for physical health and excellent builders of mental and emotional health.
Students become emotionally powerful as a result of playing games.
Students learn to be emotionally strong through sports. Most adolescents are frequently confronted with other emotional concerns in their lives, whether at home or school. As a result, they learn the ability to accept all setbacks and victories through athletics. As a result, students who participate in activities and sports are better equipped to deal with difficult situations.
What Are The Sports Facilities Important in Daily Life?
A Sound Body...
According to studies, participating in sports can help you live a longer and healthier life. Regular exercise results in a reduced body mass index and stronger muscles, which reduces stress on organs and limbs and allows you to be mobile for longer. The benefits to the heart and lungs are also enormous, particularly if you engage in endurance-based activities like walking, jogging, cycling, or swimming.
Even if you do not consider yourself a sportsperson, there is something for everyone regarding regular exercise. Unfortunately, running outdoors or on a treadmill can be incredibly mind-numbing, which may be ideal for some but is simply dull for others.
And a Sound Mind
The advantages of athletics are not limited to our bodily well-being; they also extend to our mental well-being. Because job schedules and daily rhythms might make it difficult to socialise as an adult, planning an activity where you are likely to interact with strangers-to-be-acquaintances (and maybe even friends!) can be beneficial. In this manner, you can meet both your physical and emotional demands as a social human being.
According to studies, sports have also been proved to boost confidence, motivation, and creativity. In addition, you can take a respite from the stresses of daily life by allowing your brain to focus on simple but physically demanding chores. Even while most sports make success fairly easy to achieve, the strain on your body is severe enough to feel hard-earned, resulting in the production of serotonin when you achieve your goals.
What Are The Stats About Sports Facilities in India? Well Here You Go…
Sports and Fitness are not a Top Priority for the Masses: According to Statista, roughly 10% of Indians exercise for less than one hour every week. According to a recent Puma survey, 57 percent of Indians have not participated in sports even once in the previous 12 months. Only about 2% of the Indian population participates in sports.
Sports and regular physical activity have a significant positive impact on our physical and mental wellbeing. It can help ease tension, anxiety, and creativity obstacles and avoid more serious conditions caused by our way of life.
Studies are vital for a better future, but as parents, we must remember that our children can attain the same goal even if they are more interested in games. Only one of these two options will not get them to their destination. So, starting in elementary school, your children should develop the habit of playing and continue to do so as often as possible. As parents, all we have to do on this National Sports Day is select the most deserving school for our children, one where sports and other extracurricular activities are valued equally to academics.