JOB PROSPECTS AFTER D.PHARMA COURSE IN INDIA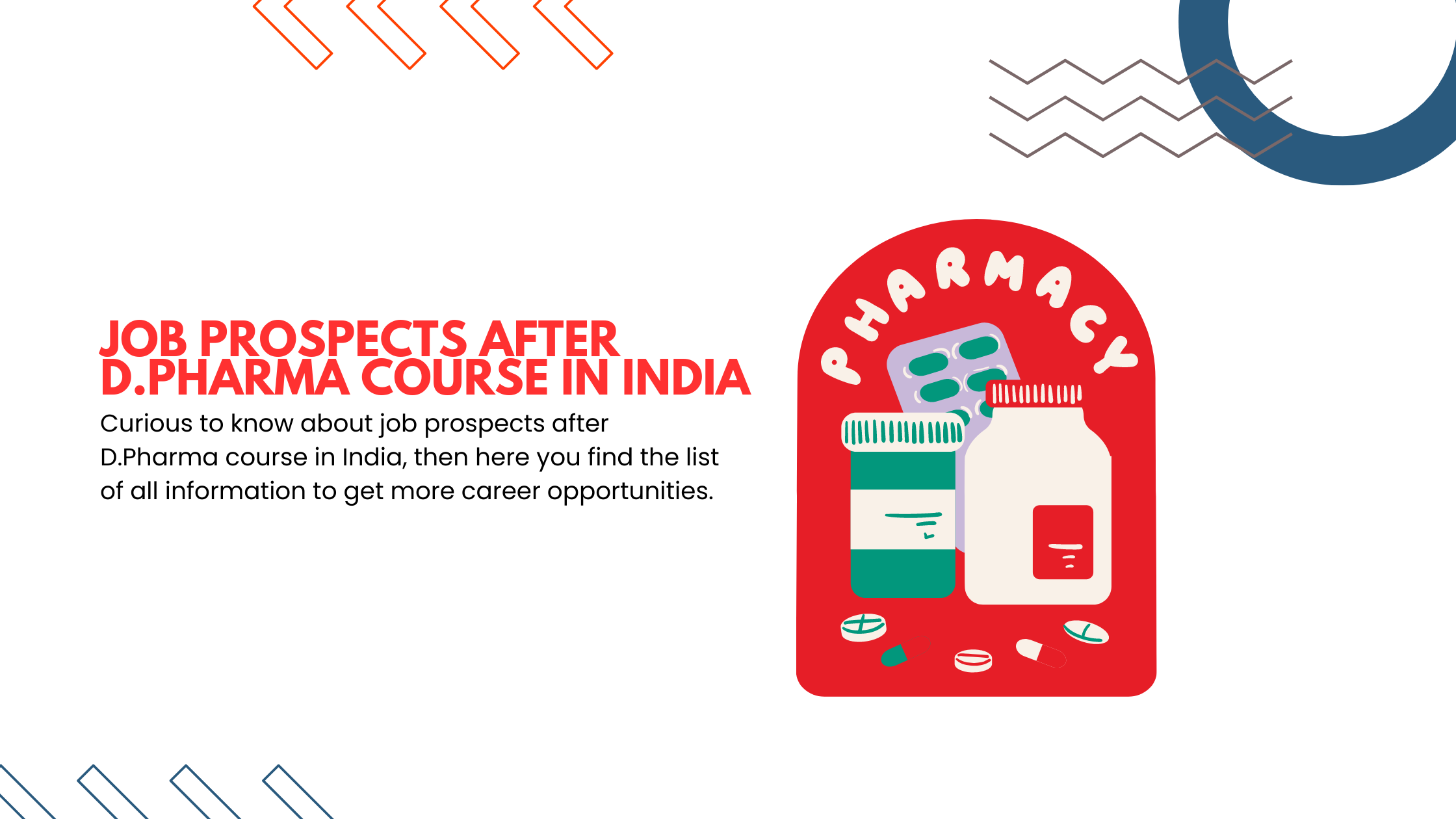 Turning past the pages of global development, the pharmaceutical industry has turned rocks by demonstrating significant growth with its estimated market value exceeding 1.5 trillion by 2023. In part, the Indian pharmaceutical market is expected to cross USD 1 trillion in 2023. The impeccably expanding pharmaceutical industry requires skilled pharma professionals, thus advocating higher job scope in upcoming decades. Renowned colleges provide courses such as the D.Pharma course in India for students to establish their careers in this rapidly growing industry.
This article will provide great insight into the job prospects after the D.Pharma course in India.
TABLE OF CONTENTS:
D.Pharma course in India
Syllabus of D.Pharma course
Job scope after D.Pharma course in India
Area of recruitment of D.Pharma graduates
Job opportunities available for D.Pharma graduates
Top companies that hire D.Pharma graduates
Reasons to choose ARYA college for your D.Pharma course
Conclusion
FAQs


D.Pharma Course in India:
D.Pharma Course is a pharmaceutical course at the polytechnic level. Renowned educational institutions like us, Arya College Jaipur, offer D.pharma courses with excellent curricula. Here are the complete details on the D.Pharma course in India:
Course Name -Diploma in Pharmacy (D.Pharma)
Course Description -D.Pharma course focuses on education pharmaceutical practices, techniques, methodologies, and manufacturing procedures from scratch level.
Course Level -Polytechnic level
Duration -2 years
Mode -Annual mode
Eligibility criteria
Candidates should have completed 10+2 in any recognized educational institution with physics, chemistry, biology, and mathematics as compulsory subjects.
Candidates should have scored at least 50% aggregate in 10+2.
Admission Procedure
In our Arya College, we provide admissions both merit-based and entrance-based. But for DPharma, there are no specific entrance exams and hence admissions are provided on a merit basis considering a 10+2 score.
Fee Structure
Registration fee= INR 1,000/-
Other fees= INR 7500/-
First-year tuition fee= INR 63,000/-
Second-year tuition fee= INR 63,000/-
Total fee= INR 1,34,000/-
Further following the D Pharma information, it is essential to know the syllabus of the course to know the job scope for the course.
Job Scope After D.Pharma Course in India:
The Pharmacological industry is making major investments in the research and development facet all around the world. As indulged in large-scale research, this industry requires eminent skilled pharma professionals with their degrees completed at the best pharmacy colleges in India as well as abroad.
Look at the graph that depicts the rapid investment made in R&D by the pharma industry:
Source: https://www.efpia.eu/publications/data-center/value-to-the-economy/worldwide-pharmaceutical-rd-investment/
As the pharma industry is expanding rapidly at a Compound Annual Growth Rate of 12.8%, recruitment of a huge batch of pharma graduates for various job roles is a very good job scope. Here is the graph depicting the revenue expansion of the pharma industry thus indicating expanded job prospects for students after graduation in D.Pharma Course in India.
Source: https://www.precedenceresearch.com/pharmaceutical-manufacturing-market
Area of Recruitment of D.Pharma Graduates:
Pharma graduates are hired in pharma areas and here are the certain areas of recruitment of D.Pharma graduates:
Government Hospitals
Private Hospitals
Clinics
Community Health Centres
Private Drug Stores
Pharmaceutical Industries
Food and Drug Administration
Research Labs
Educational Institutes
Following the areas of recruitment, let us look into different job roles after the D.Pharma course in India.
Job Opportunities Available for D.Pharma Graduates:
Here is a brief look into the various possible job roles after a D.Pharma graduation in a renowned college like us, Arya College, one of the best pharmacy colleges in Jaipur.
Job Positions and Description
Pharmacist - Responsible for analyzing and providing the drugs at recommended dosage by doctors. And also responsible for maintaining the stock, expiry check, etc in pharmacies at clinics and hospitals.
Hospital Pharmacy Director-Look after hospital pharmacy programs and ensure that hospital policies and regulations are met.
Assistant professor - Teaches and lectures about pharmaceutical concepts in pharma colleges.
Sales and Marketing Executive - Responsible for researching and analyzing the pharma customer needs and making successful sales by implementing marketing strategies.
Pharmacologist - Responsible for investigating and analyzing drugs and other chemical combinations to understand their effect on biological systems and curating the usage procedure for them.
Clinical Research Associate-Involved in scheduling, coordinating, and supervising clinical trials in firms like pharma companies.
Data Analyst- Responsible for analyzing the chemical data of different drugs, medicines, and chemicals to conclude research results.
Scientific Officer- Involved in scheduling and performing scientific research for drug development and improvement.
Medical Transcriptionist- Responsible for transcribing medical notes, chart reviews, diagnostic reports, etc in the medical field by listening to the various dictations of medical professionals.
Pathological Research Scientist - Involved in analyzing various specimens and samples for any abnormalities.
Here is the graph depicting the salary scale of different jobs after the D Pharma course in Jaipur as well as all over India.
Top Companies That Hire D.Pharma Graduates:
India has got a huge pharmaceutical market with a value of USD 1 trillion as of 2022 with esteemed pharma companies. Even during the worst times of Covid-19, Bharat Biotech, one of the top Indian Pharmaceutical companies, succeeded in producing Covexin along with ICMR and saved millions of lives worldwide.
Here is the list of some pharmaceutical companies that hire D.Pharma graduates:
Sun Pharmaceuticals Industries Limited
Reddy's Laboratories
Mankind Pharma Limited
Aurobindo Pharma Limited
Glenmark Pharma Limited
Biocon Limited
Cipla Limited
Reasons to Choose ARYA College for Your D.Pharma Course:
Pursuing any course at the right college is a fundamental necessity for successful education. As the college we choose will have a great impact on the quality of education, it is very important to choose the right college.
We at Arya College Jaipur ensure that we provide world-class education, and here are the reasons why one should choose Arya college for their D.Pharma education:
Highly-qualified faculties.
Well-equipped lab facilities.
Proper approval from the Pharmacy Council of India(PCI)
Greatly enriched traditional and digital libraries for student access.
Top-notch practical training in collaborated pharma companies.
Also Read - Different Pharmacy Courses: How to Pick the Right One for You?
Conclusion:
The tremendous development of the pharmaceutical industry of India has pushed our country to the 45th position in Global Healthcare Index with a 65.1 healthcare index rate. The decrease in mortality rate and increased healthcare facilities and active drugs for almost all diseases are possible because of the effective pharma companies that hire skilled pharma graduates. Students pursuing D.Pharma course in India and further pharma courses are in high demand in the pharma company, thus portraying remarkable job opportunities in the pharmaceutical industry.


FAQs:
Which is better, DPharma or BPharma?
For students confident of pursuing their career in pharma, Dpharma is better after 10th grade. For students choosing the pharma profession after the 12th, BPharma is preferable.
Is DPharma similar to MBBS?
No, DPharma is not similar to MBBS. DPharma is a polytechnic level course whereas MBBS is an undergraduate degree. DPharma graduates cannot practice medicine as MBBS graduates.
Can students make lateral entries to BPharma after DPharma?
Yes, certain colleges allow students to make lateral entry to BPharma after DPharma based on the score in DPharma by the candidate.
Is DPharma tough?
DPharma is not tough for students with a good interest in life science subjects especially chemistry as pharma is majorly concerned about the manufacturing of drugs and chemical substances.
Can we do MBA after DPharma?
No, MBA cannot be done after DPharma as it is a polytechnic course, not an undergraduate degree. But MBA can be pursued after BPharma.