Importance of Seminars, Workshops, and Presentations in Students' Life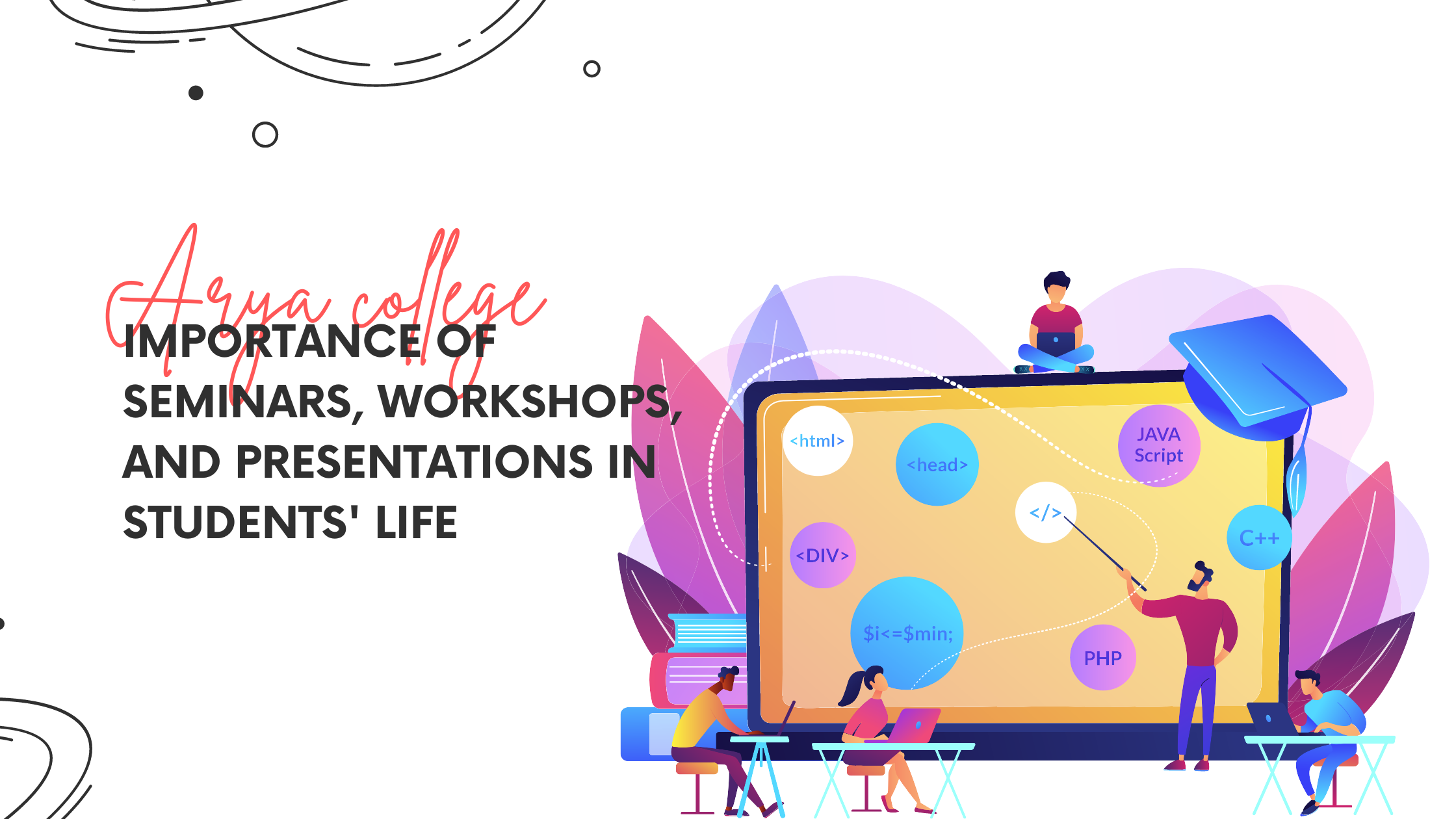 Have you ever attended a seminar/Workshop/presentation? If yes, did you find it interesting or boring? Well, most of the students find seminars, and workshops more interesting than classroom sessions. Do you know why your college organizes these events? And how these events will benefit students' life.
If you want to find out the answers to all these questions, read this post.
What are Seminars, Workshops, and Presentations?
At the college level, seminars, workshops, and presentations are a practical approach to teaching students about a topic in a detailed manner to keep the students aware and updated about the work culture, technologies changes/advancements happening in the industry.
A seminar is a gathering of people led by 1 or 2 presenters discussing a certain topic in a detailed manner. Seminars are usually more interactive than classroom sessions and the participants also get the chance to discuss the topic. Whereas a workshop is an intensive educational program that focuses on skill-building over a particular technique.
And in the presentation speakers communicate about a topic to a large group of audience by using visual aid.
Why are Seminars, Workshops, and Presentations Important in Students' Life?
Engineering is a field that focuses on technology. And in every stream, technological advancements are happening around the globe. And no college can include all the upgradation and technological changes in their course curriculum.
And being an engineering student, attending seminars, and workshops give you a detailed insight into the new topics and latest technological changes by the eminent personalities of your field. And presentation helps you in researching and learning more about a particular topic. This is the reason why engineering colleges in Jaipur such as Arya College, organize seminars, workshops, and presentations.


Benefits of Attending Seminars, Workshops, and Presentations
To Gain Confidence
As an engineering student, you will not get many opportunities to participate in presentations or public-speaking activities, and presentations, seminars, and workshops will give you a platform to present your thoughts and ideas in front of a large audience. It will help you in reducing your stage fear and will help you in gaining confidence.
Encouragement and Motivation
During seminars, and workshops, you'll be asked to participate in presentations, and speeches, interacting with the college's faculty and with people outside of the college, these activities will encourage you and motivate you to learn, explore, and research about the new topic.
Networking- Colleges Campus
organizes seminars and workshops with the collaboration of multiple colleges and industry experts. And as a student, you will get the chance to build a professional network with them. This network of people will not only guide you in understanding the industry culture, or course concepts clearly but they will be very helpful in escalating your career opportunities in the future.
Helps in Research
If you are a postgraduate student of engineering and want to do PhD in the future, attending workshops, and seminars will be a great help for you. You will get to know about emerging technologies and their scope, and you can figure out the topic in which you want to do your research.
To Enhance soft Skills
Attending seminars, and workshops will not only boost your confidence, but it will also help you in brushing up on your soft skills such as communication skills, listening skills, presentation skills, problem-solving skills, etc. And these skills will be very useful when you will join corporations in the future.
Helps in Better Understanding of Theoretical Concepts
Certain topics of engineering are difficult to understand in a theoretical way. And if the college organizes a seminar/workshop on the same topic, you will be able to clear your doubts and understand the topic clearly.
To Learn a new Perspective
Prominent personalities from the business and education industry join the seminars/workshops and present their perspective. And as a student, you will learn a different perspective of how they work, or they act in certain situations, etc.
Helps in Generating New Ideas
Industry experts and speakers at seminars/workshops will share their perspectives and knowledge about a subject matter. They will also ask you to present your views on a certain problem, and this process will help you in bringing out a new solution to a problem. Also, you can later research and find out different solutions/ technological advancements for a particular problem.
Helps in Building a Strong Resume
To secure a good job in any company, your educational degree won't be sufficient. Employers always look for candidates who are updated with the current technological and industry changes. And your seminar/workshop certificates will act as proof that you know those topics too. Adding this information to your resume will give you an extra edge over other applicants.
How is Arya College in Jaipur providing practical learning to its students?
Arya College understands the importance of organizing seminars, workshops, and presentations to enhance students' learning, achieve educational goals, and contribute to enhancing career prospects for our students.
And with the industry-approved curriculum, Arya College, Jaipur organizes seminars, workshops, and presentations for our students at regular intervals to give students a perfect blend of learning. Eminent personalities not only from India but international level experts visit the campus for workshops and seminars.
Conclusion
We hope with this blog, you have understood how Seminars, Workshops, and Presentations support your theoretical knowledge and give you new insights and understanding of the subject matter. So, while choosing an engineering college ensure that your college organizes seminars/workshops for their students.
Frequently Asked Questions
Which engineering colleges in Rajasthan are considered best in terms of placement?
Arya College situated in Jaipur stands no. 1 in the placement list of engineering colleges. This college is considered the north India IT hub, all the prominent companies of the industry visit the campus for placement drives such as Wipro, Capgemini, L&T infotech, Google, Infosys, etc. Some other best engineering colleges are IIT Jodhpur, MNIT, and RTU.
How blended learning will help you in learning?
Blending learning refers to the amalgamation of theoretical and practical learning. And as a student, blended learning will help you in a clear understanding of the subject matter, enhancing learning outcomes, and opening the door for more career opportunities for you.
What is the purpose of the workshop in the seminar?
A workshop is an excellent method for teaching practical skills since it gives participants the ability to experiment and make mistakes in a secure environment.
What are the advantages of presentation?
Presentation is one of the best ways to engage and teach a group of people. Striking and attractive visuals used in the presentation grab the student's attention and through clear explanations and by using bullet points you can easily make the students understand a subject matter.