How AI and Data Science Impact Businesses and Industries?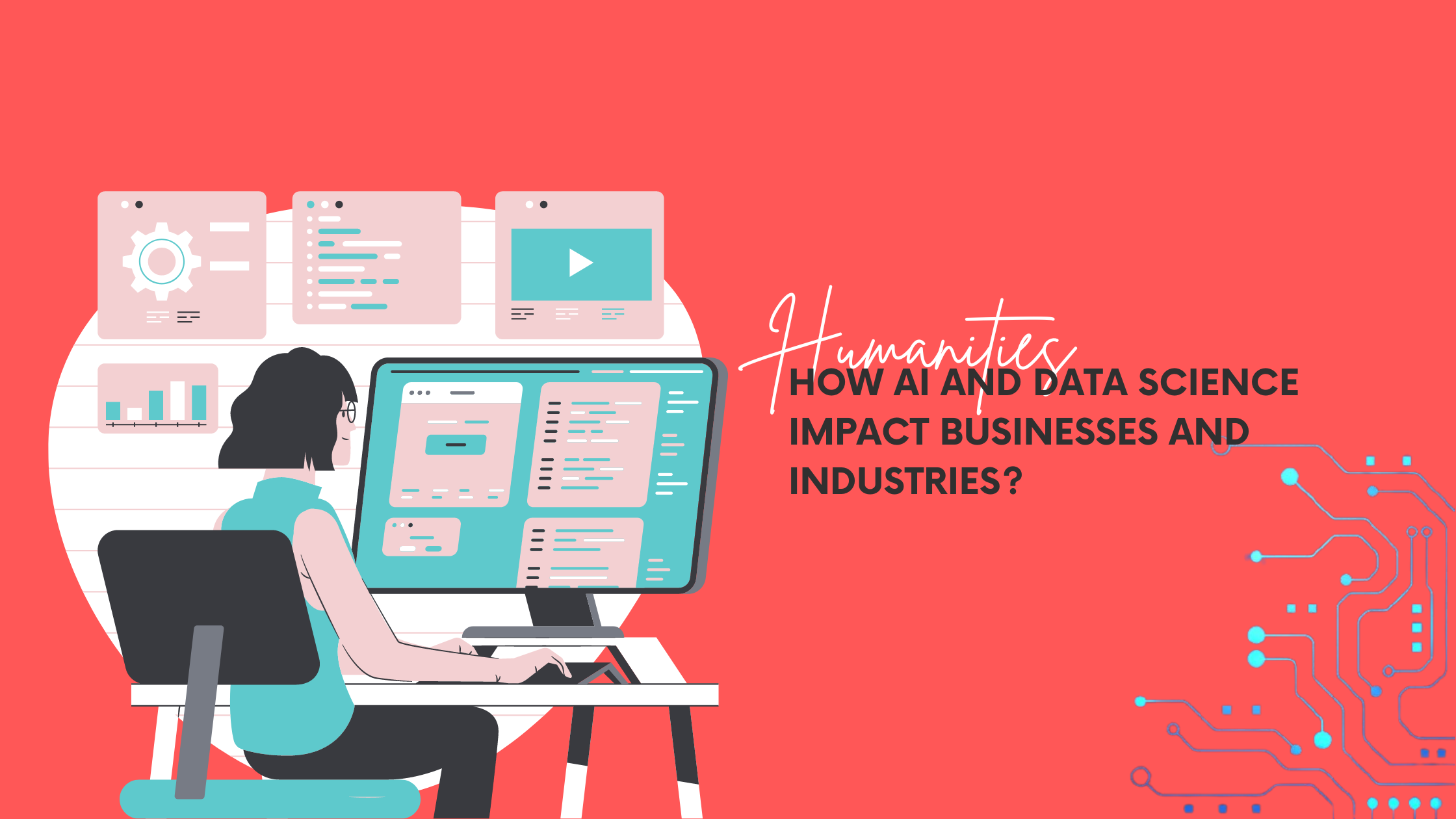 With the release of Chat-GPT to the general public, there was a lot of furore over the possibility of AI taking over jobs from people. And this was a legitimate response in some ways; after all this new chatbot could write basic code, write scripts and blogs, generate responses to almost any type of query, and do much more. Companies could just use AI tools like GPT to do the kind of work previously done by entry-level employees, freeing up resources and money to invest in the future.
However, what the general public isn't very aware of is that both AI and Data Science have been used by large companies for quite some time now. Companies that have a presence on the internet collect huge amounts of data as we go through our daily lives. This data is then used in various ways to improve their business. Hence the popularity of courses in Data Science and AI in our country can roughly be attributed to how successful the implementation of these has been in the market. This blog talks about one such course and also how AI & DS has changed the way businesses and industries now go about their business.
Understanding Artificial Intelligence and Data Science
Artificial Intelligence, as the name suggests, is the endeavour to use technology to mimic human intelligence in finding patterns and making decisions or projections based on them. This is aided by Data Science, which uses a combination of various tools, algorithms, machine learning principles, and formulas to identify patterns that are then used by AI.
Artificial Intelligence and Data Science Engineering
As the world was slowly being used to the wonders of these new technologies, educational institutions recognized the need to train more experienced professionals in these fields to keep up with the demand. Hence, many engineering colleges like Arya College began offering courses in these fields, the most common among them being B Tech AI and Data Science.
This course is a 4-year undergraduate program in engineering that focuses on these particular technologies and their applications with highest placement opportunities. Here is a table to give you a quick overview of what this course entails.
Course Name - Btech in AI and Data Science
Full Form - Bachelor of Technology in Artificial Intelligence and Data Science
Level- Undergraduate
Duration - 4 years
Eligibility - 50% in 10+2 with PCM (Physics, Chemistry, and Mathematics) subject combination
Mode of Examination -Semester
Admission Process -Merit-based or entrance exam based
Average Course Fee -INR 1 - 1.5 lakhs
Average Starting Salary -INR 10 -15 LPA
Top Recruiters -Google, Facebook, Netflix, Nvidia, Microsoft, Apple
Common Job Profiles -Data Scientist, Analyst, Computer Vision Engineer, Data Engineer, etc.
Impact of AI on Businesses
While AI still has the scope to impact our lives in the future as it is still a developing technology, it is not something new by any means. We've been using AI for a number of things to make our lives a bit easier since the 1990s.
(Source: McKinsey Global Institute Analysis)
Businesses have used AI not to get revolutionary breakthroughs, but to streamline processes on a daily basis, as a 2018 Harvard Business Review study found. These days, businesses across various sectors like retail, finance, advertising, healthcare, etc employ professionals who've done an AI Data Science course for their needs. Let us now look at what needs these professionals use AI to fulfill, which can be divided into 3 main categories based on their application.
Process Applications
These include the automation of simple tasks. AI can perform tasks like calculating optimal schedules, enabling real-time decision-making, and delivering custom reports much faster than a human, and with a lower margin of error.
Insight Applications
These employ the pattern recognition prowess of AI to analyze records and learn from them to personalize content and also in identifying and predicting outcomes.
Engagement Applications
An engagement application uses processes and insights from human inputs to engage directly with them. This can be seen across industries in chatbots, managing employee resources for HR, and even assisting diagnoses in the healthcare industry.
Impact of Data Science on Businesses
Students who study Data Science and Artificial Intelligence courses will understand that it can impact businesses and industries not only externally, but also internally. The multitude of ways in which this burgeoning technology can benefit businesses and industries is still being explored. However, let us discuss how Data Science has been used by businesses to get results.
Data-Driven Decision-Making
Organisations have used data science to organize, interpret, and leverage their collected data to make more informed decisions, plans, and forecasts for all their operations. This allows businesses the ability to find out which areas they are lagging behind in and also have an opportunity to catch up and reach targets.
Understanding Customers
Companies use NLP (Natural Language Processing) to better understand customer intent and target them more effectively. NLPs have also expanded their capabilities to do things such as topic modeling, sentiment analysis, and named entity recognition, all of which serve them to better understand their customers.
Opportunity Identification
Using generated and collected data over a period of time, businesses now use data science analytics to better understand demand gaps in the market and penetrate them with targeted ads and marketing campaigns with greater accuracy.
Conclusion
AI and Data Science have shaken up the general demographic nowadays, with more people being exposed to the implications of AI in our everyday lives for the first time. However, many industries have been using these technologies to improve their services and bottom line for a long time. AI and DS are still in their infancy and as we discover more ways to implement them in our lives, the demand for professionals to work in these fields is also bound to increase further. Hence, a Btech in AI and Data Science is a good field to study in Arya College to stay relevant at a time when people are afraid that automation may take over their jobs.


FAQs
Do I need to sit for an entrance exam to get into the AI & DS B Tech program at Arya College?
No. Arya College Jaipur takes admission to its Btech in AI & DS course based on merit so you don't need to sit for any entrance examinations.
How much can I earn as a Data Scientist?
The average salary of a Data Scientist ranges from INR 3.2 to 7.2 LPA in India.
Can AI and data science benefit the automotive industry?
Yes. It already is. Autonomous vehicles, in their current form, use AI and data science to predict a lot of factors like human responses to traffic conditions, weather conditions, collision data, etc.
What is IOT and how does it benefit businesses?
IOT or the Internet of Things uses various connected devices that gather information through a range of different sensors to optimize workflow and report real-time data to businesses.