Elevate your Career with a Master's Degree from Arya College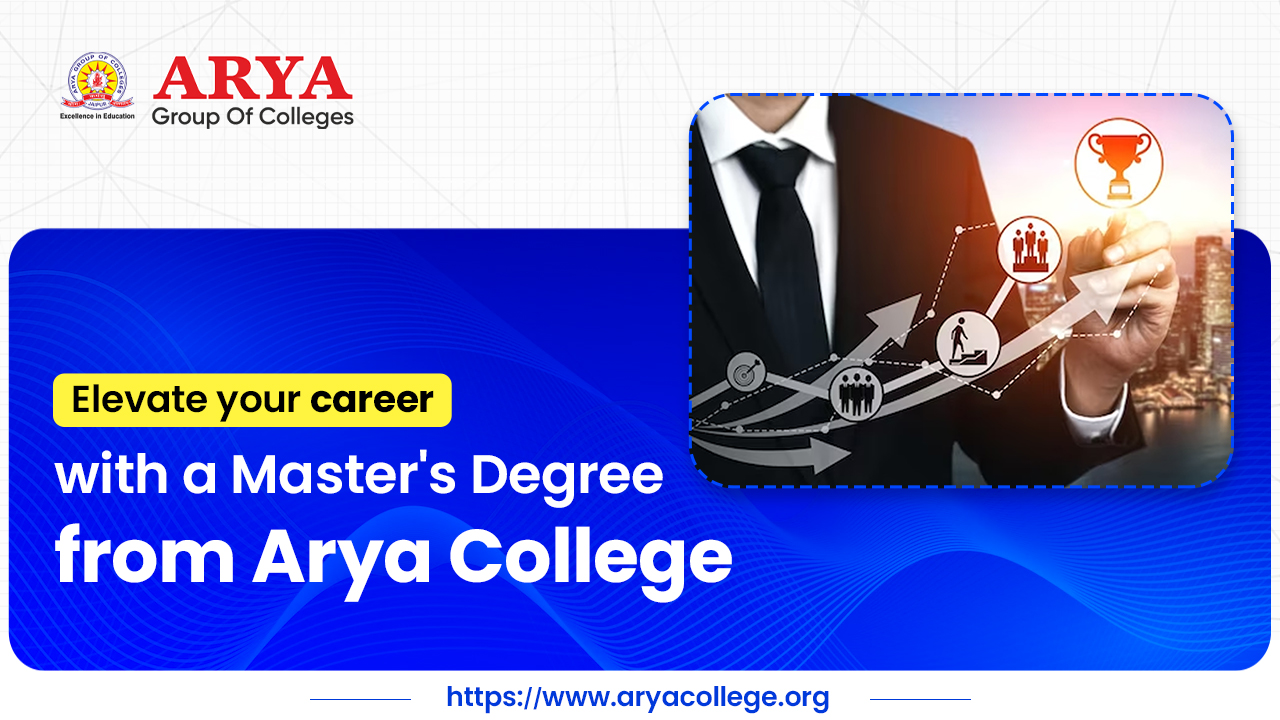 Arya College Jaipur is a popular educational institution in India. The college has been providing quality education with its well-qualified faculty members and cutting-edge technology. The college is known for its excellent infrastructure, facilities and learning environment, making it one of the most sought-after institutions for students from all over the world to study their Masters course at Arya College Jaipur.
In this article we will cover all about Masters Courses offered by Arya College Jaipur:


Master of Technology (M.Tech)
Masters of Technology (M.Tech) is a postgraduate degree offered by Arya College, Jaipur. It is a two-year program that allows students to specialize in their field of study. The M.Tech course curriculum includes topics like advanced engineering concepts, research methods and project work.
There are several streams under which students can pursue M.Tech at Arya College:
Civil Engineering
Computer Science & Engineering (CSE)


Master of Business Administration (MBA)
Master of Business Administration (MBA) is a two-year full-time program that prepares students for careers in management, marketing and finance. The curriculum is designed to develop the skills required by managers for running organizations effectively, efficiently and profitably. MBA degree is a professional degree recognised worldwide, which makes the college very popular among students who wish to pursue management, marketing and finance careers in industry and academia as an essential qualification for anyone aspiring to become a leader in business administration or management practice.
Arya College Jaipur has been rated as one of the best Management Colleges in India by several national newspapers like Times Of India and Hindustan Times etc., which makes the college very popular among students who wish to pursue their higher studies here.


Master of Computer Applications (MCA)
The Master of Computer Applications (MCA) is a professional degree that is offered by Arya College in Jaipur. The course is two years long and requires students to complete 120 credits worth of study.
MCA syllabus includes:
Database Management Systems
Information Technology Infrastructure Library (ITIL) Certification Courses
Career Opportunities for Graduates
MBA Graduates:
Business Development Manager
Financial Analyst
Marketing Manager
Operations Manager
Human Resources Manager
Management Consultant
Entrepreneur
Project Manager
Supply Chain Manager


Engineering Graduates:
Design Engineer
Project Engineer
Research and Development Engineer
Quality Control Engineer
Manufacturing Engineer
Sales Engineer
Systems Engineer
Software Engineer
Structural Engineer
Environmental Engineer
Civil Engineer
Study Master Program at Arya College Jaipur
If you want to pursue a career in one of these fields, then Arya College is the right place for you. It offers courses that will help you build a strong foundation in your chosen field. The course curriculum includes lectures, tutorials and practicals on various topics related to the subject.
The course structure also allows students an opportunity to enhance their analytical skills through project work based on case studies which can be presented at conferences or seminars organized by colleges across India.


Conclusion
We hope that you have found this article helpful in understanding what the courses offered by Arya College are and how to apply for them. We would also like to take this opportunity to invite you to visit our college campus for a personal interaction with our faculty members as well as students who are currently pursuing their studies here.