B.Tech data science in India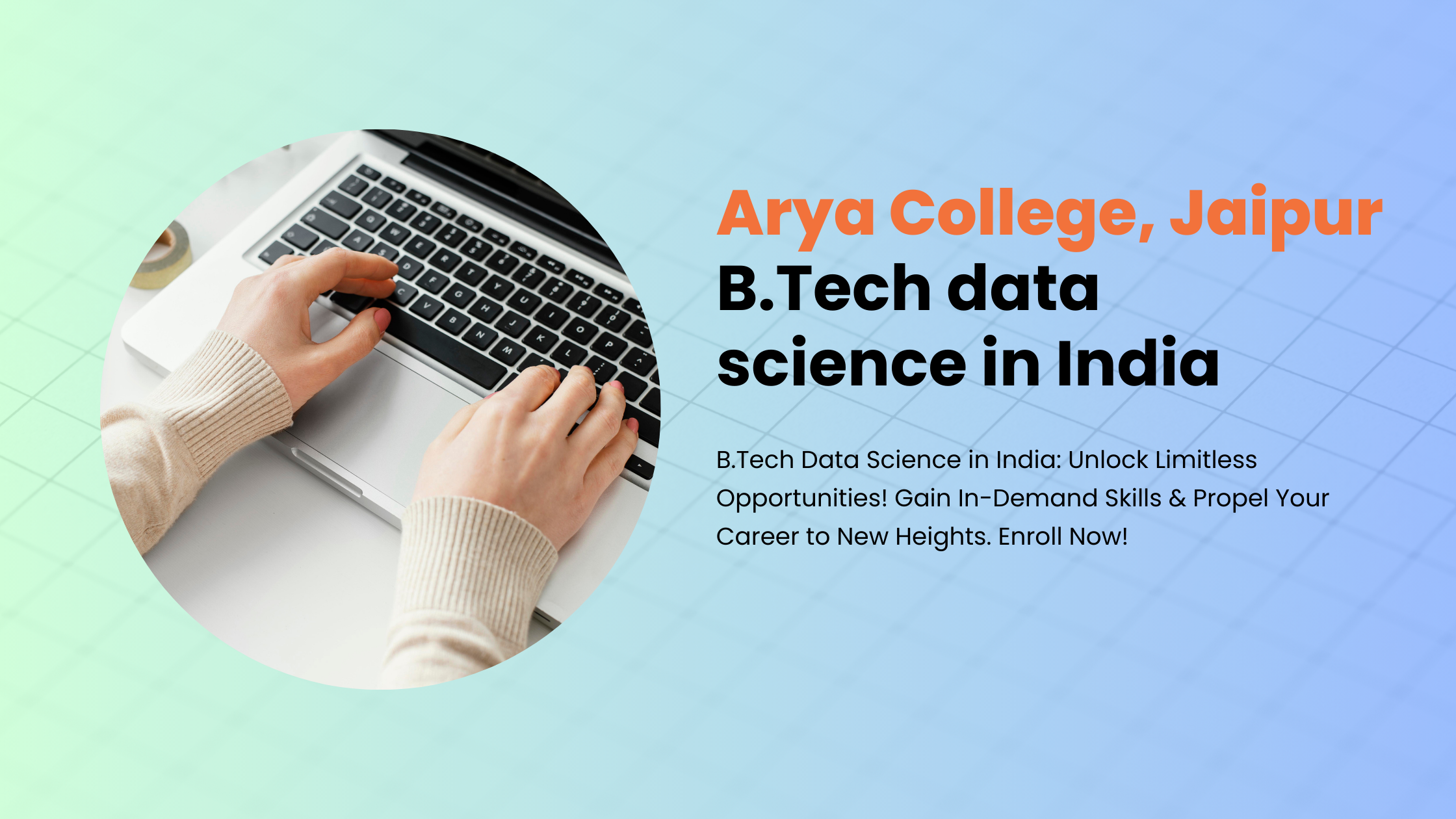 Data science is the discipline of extracting knowledge from data. Data scientists are people who use programming and statistical tools to extract value from data. They can work in a variety of fields, including business intelligence, finance, bioinformatics and other areas where large amounts of raw data need to be analyzed.


What is Bachelors in Data Science?
Data Science is a combination of statistics, computer science, mathematics and programming. The institute offers Bachelors in Data Science for students who wish to pursue higher studies in the field of Information Technology.
Data Science is the application of data analysis to extract information from data. Data Scientists use data mining tools to find patterns in the data, which they then use statistics to analyze further.


How is B.Tech in Data Science helpful?
B. Tech in Data Science is a four-year degree programme that helps students gain knowledge and skills related to data science. The course covers topics such as data mining, machine learning and artificial intelligence. Students can also explore the fields of internet of things (IoT), big data analytics, cloud computing and business intelligence if they choose to do so. With this qualification you will be able to work with large volumes of information using various tools and techniques associated with various technologies such as cloud computing, Hadoop etc.,


Data science course eligibility
To be eligible for admission into the B.Tech in Data Science programme, the applicants must have -
Cleared their class XIIth qualifying exam from a recognised Board with at least 40% aggregate
Cleared their class Xth exam from a recognised Board with at least 60% aggregate
Secured at least 60% aggregate in PCM+Computer Science/PCB combined
At least socred 50% in Maths at the qualifying level
B.Tech Data Science Admission Process - via Entrance Exam
The admission process for a B.Tech Data Science degree typically involves writing an entrance exam, followed by an interview with a panel of experts in the field. Depending on the college or university, you may also need to submit your transcripts and other relevant documents. After all these processes are completed, applicants will receive their admission offer.


B. Tech data science syllabus
The detailed syllabus for B.Tech Data Science can be found in the table below -
Semester - I
Principles of Electrical and Electronics Engineering
Computer-Aided Design and Drafting
Engineering Physics
Maths I
Programming for Problem Solving
Introduction to Artificial Intelligence and Machine Learning
Soft Skill I
Semester-II
Application Based Programming in Python
Mechanical Workshop
Engineering Chemistry
Advanced Physics
Maths II
Soft Skill II
Multimedia Application Lab
Semester - III
Building Essential Language and Life Skills
OOPS Using JAVA
Data Structures Using C
Computer Organization and Architecture
Discrete Structures
Introduction to Biology for Engineers
Applied Statistical Analysis
Industrial Internship
Project Based Learning I
Semester - IV
Communication to Conquer
Data Acquisition
Advance JAVA Lab
Environmental Science
Database Management System
Computer Networks
Principles of Operating System
Project Based Learning II
Management Course
Semester - V
Impress 2 Impact
Data Warehouse
Software Engineering and Testing Methodologies
Theory of Computation
Design and Analysis of Algorithm
Project Based Learning III
Programme Elective I
Industrial Internship II
Open Elective I
Technical Skill Enhancement Course I
Semester - VI
Data Mining
Open Elective II
Project Based Learning IV
Programme Elective III
Programme Elective II
Technical Skill Enhancement Course II
Artificial Intelligence
Compiler Design
Ace the Interview
Semester - VII
Business Intelligence
Campus to Corporate
Open Elective III
Industrial Internship
Professional Ethics and Values
Comprehensive Examination
Major Project I
Web Technologies
Programme Elective IV
Semester - VIII
Big Data Analysis
Universal Human Ethics and Values
Open Elective IV
Programme Elective VI
Programme Elective V
Major Project II
Scope for B.Tech in Data Science
A bachelor's degree in data science can be a great stepping stone to a career in data science. It is a great way to get started in the field, and it can also be a great way to gain experience if you already have some experience in data science.
Data Science has become one of the most popular fields for graduates to work in today. This is because there are many opportunities available for people who have studied this course and they will find it easy to get jobs with good salaries.


Jobs in data science
Data Science is a branch of computer science, in which data is collected and analyzed to predict outcomes. It's used to make predictions on the likelihood of fraud, or if a patient has cancer. Data Science can be applied in many industries such as finance, healthcare or retail.
Data Scientists use advanced methods and tools to extract insights from raw data using statistical modeling, machine learning, text analysis etc., so that they can build models for decision making purposes.
Data analysts are responsible for analyzing raw data and identifying trends based on their findings. They then turn these findings into meaningful reports that help companies make better decisions in their operations.
Machine Learning Engineers design software systems that can learn automatically from experience without being explicitly programmed by engineers or scientists.


B. Tech data science colleges
Data Science Courses in India. The best data science colleges in India can be found at the following institutions:
IIIT Hyderabad,
IIT Delhi and IIM Ranchi offer a B. Tech degree in Data Science.
Many other universities have also started offering similar courses on a contractual basis or as part of their regular curriculum. Some of these universities include
St Joseph's College Bangalore
Visvesvaraya Technological University (VTU)


Data Science vs Data Analytics: Which is Better to Study?
If you're interested in Data Science, but aren't sure where to start, it's important to know the difference between Data Analytics and Data Science.
Data Analytics is more specific than Data Science. If we consider Data Science as a home for all the methodologies and tools, then Data Analytics is just a small room in that home. In short, Data Analytics is more specific and concentrated than Data Science.
If you're just starting out with data science or analytics, it might be helpful to think of them as complementary fields. For example, you could analyze your data using tools from the field of statistics and then use the results of those analyses to learn about your audience's behavior online.
Skills Required to be a Successful Data Scientist
Data Science is a very broad field and requires a lot of skills. A data scientist needs to be good at statistics, machine learning and programming. Apart from this, he should also have excellent communication skills in order to effectively communicate with other team members as well as clients.
If you are someone who wants to become a successful Data Scientist, it is important that you practice your coding skills on a regular basis because this can help you become more efficient in performing advanced tasks such as building models and applying statistical methods on datasets.


Why study B.Tech in Data Science?
Data science is a multidisciplinary field that draws from statistics and machine learning. It also involves data visualization, natural language processing (NLP), and computer programming. The demand for data scientists is rising at an exponential rate in India as well as worldwide. As per some estimates, it is expected to reach $187 billion by 2020 in the United States alone.
With this increasing demand for data scientists, it helps if you have a degree in Data Science or any related field such as Computer Science or Mathematics because employers are looking for candidates with different skill sets from different backgrounds who can pull together all their skillsets to be able to solve complex problems using various techniques like statistical modeling etc.,
Data science has become an important component of any business plan today due its ability to provide organizations with valuable insights into their customers' behavior patterns which allows them better market strategies & product offerings etc.


Conclusion
The world is moving towards a data-driven economy, and there are many career opportunities for students with a Bachelor of Technology in Data Science degree. Students who want to pursue careers in this field can consider studying at a college that offers education in data science, such as NIT Trichy.


FAQ
- What is the eligibility criteria for pursuing B.Tech data science in India?
The eligibility criteria for pursuing B.Tech Data Science in India is typically a 10+2 examination from a recognized board with Physics, Chemistry, Mathematics and English as compulsory subjects. Candidates must also have secured an overall aggregate of 50-60 percent to be eligible for admission.
- How much of an advantage does a B.Tech data science degree provide compared to a regular engineering degree?
A B.Tech data science degree provides a significant advantage in the job market because it focuses on the specific skills needed for data related roles such as programming, statistics, data analysis, and machine learning. It enables students to gain the valuable experience required to create and work with high-level models and complex datasets that are increasingly in demand today.
- What are the major subjects taught in B.Tech Data Science in India?
The major subjects taught in B.Tech Data Science in India include Mathematics, Statistics, Machine Learning and Artificial Intelligence, Database Management Systems, Software Engineering, Visualization and Programming Languages such as Python and R.
- What type of career opportunities can one expect after completing a B.Tech data science program?
After completing a B.Tech data science program, one can expect career opportunities such as data analyst, machine learning engineer, big data scientist or specialist, software developer, business intelligence analyst, and many more.
- Does completing a B.Tech data science program give an edge over other candidates when applying for jobs in India or overseas?
Yes, completing a B.Tech data science program can give an edge to candidates when applying for jobs in India or overseas because having a technical degree in the field of data science provides employers