Arya College Jaipur : Important Resources to Use at Arya College Jaipur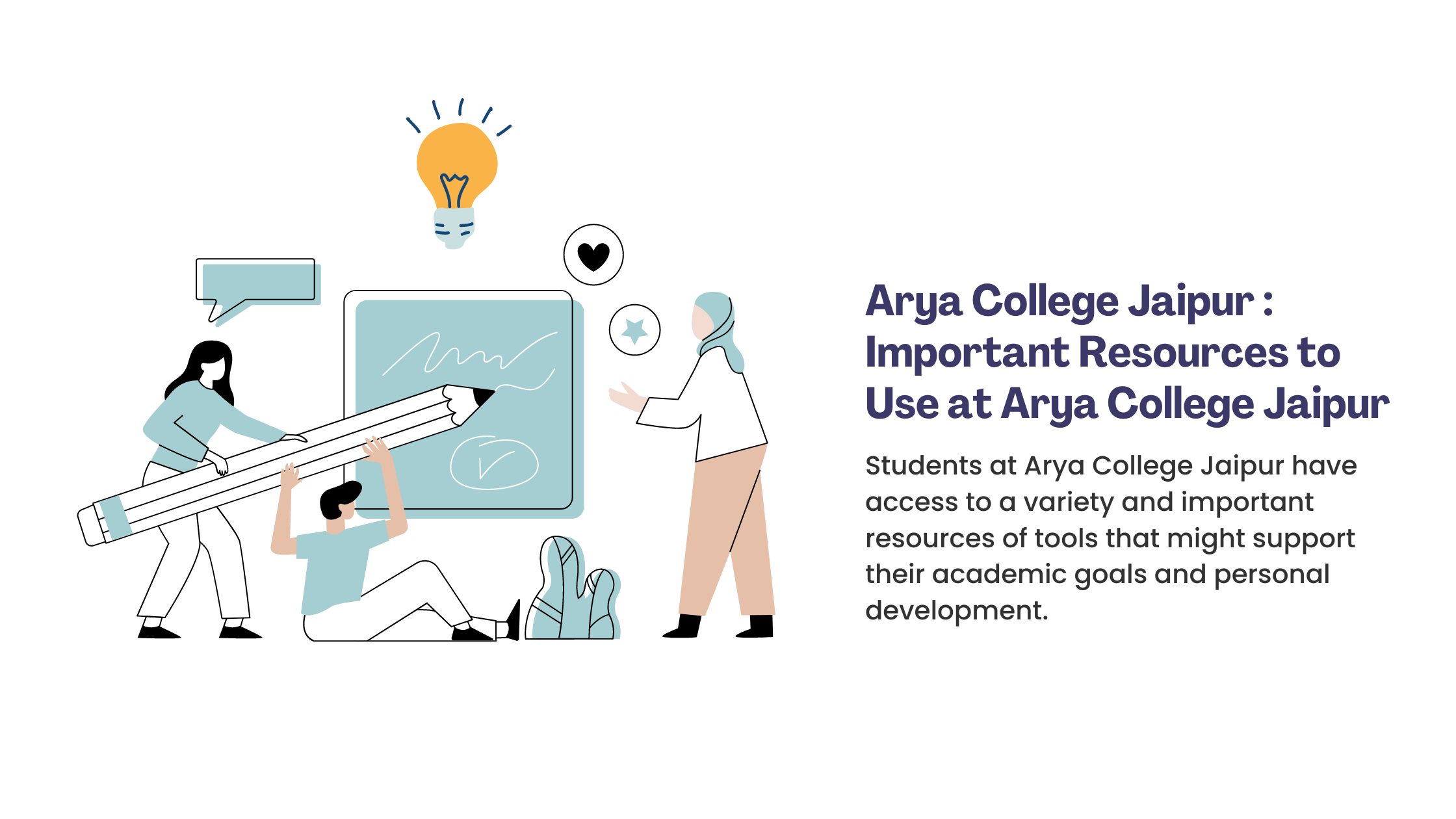 Arya College, Jaipur is one of the prestigious colleges located at Jaipur. It was established to provide quality education to students from all walks of life since then. The college provides its students with state-of-the-art facilities and amenities so that they can pursue their studies without any difficulty. These campuses provide various facilities such as library resources and services, academic support services, career development centers etc.
Arya College Jaipur is one of the Prestigious Colleges Located at Jaipur.
Arya College Jaipur is one of the prestigious colleges located at Jaipur. The college is affiliated to Rajasthan University, Jaipur.
The college was established in the year 2006 and is one of the renowned colleges in Rajasthan. The college offers various courses like Bachelors in Arts, Bachelors of Commerce, Bachelors of Science and Master of Arts.
The college is well equipped with facilities like classrooms with proper furniture, seminar hall and library. The college also has well-qualified and experienced faculties who conduct various activities in the college. The college organizes various events to keep the students engaged in academics as well as extracurricular activities.


Library Resources and Services
Arya College Library is an important resource for students to use. The library provides access to print, electronic and digital resources in order to support learning across the curriculum.
The library is open to all students, staff and members of the community. Library services include: - Books, journals and other print resources - Electronic resources - Digital learning tools - Library support services including printing and scanning - Reference and enquiry services - Lending of equipment such as laptops, tablets, e-readers, headphones and more


Academic Support Services
Online tutoring: This is one of the most popular services that can be accessed by students. The online tutoring platform provides live video chat sessions with teachers and faculty members, who help you with your studies at any time of the day or night. It's an excellent way to get answers to questions or learn new concepts from experts in their fields.
Peer-to-peer learning: In this method, students teach each other using social media platforms like WhatsApp and Facebook groups. The idea behind peer-to peer learning is that everyone learns from each other rather than relying on paid teachers who may not always be available when needed by students (especially those studying abroad).
Tutoring centers: These centers are usually located near colleges so that students can easily access them during their breaks between classes or after hours when no one else is around except for other tutors working there too! They provide everything from basic math classes up through graduate level courses such as advanced statistics analysis techniques."


Career Development Center
The career development center at Arya College Jaipur provides services and guidance to students on career planning. It helps them make informed decisions about their future career, so they can build professional skills and develop personal skills as well.


Student Clubs and Organizations
Student clubs and organizations are a great way to connect with other students who share your interests. Some of the popular ones include:


The Arya Club
This is a club for students interested in Hindi literature, culture and history. It organizes various events related to different aspects of Indian culture such as poetry recitals by renowned poets, film screenings etc. They also organize trips around Jaipur city where they visit historical sites like Amer Fort or Nahargarh Fort which are both close by Arya College campus area.


The Green Club
This club aims at promoting environmental awareness among students through activities such as tree plantation drives, cleanliness drives etc., so that everyone can make their contribution towards making our planet greener!
The Sports Club
This is a sports club that organizes various inter-college tournaments for students interested in soccer, table tennis, badminton etc. The aim of the club is to promote a healthy lifestyle among the youth by encouraging them to play outdoor games rather than just being glued to their computers all day long!
The Debating Club
This is a club that gives students the opportunity to hone their debating skills and learn new techniques for conducting debates. They organize various debates with other colleges in Jaipur city and also participate in national level debates organized by different organizations such as NSD or Indian Institute of Technology (IIT).
The Dramatics Club
This is a club that aims at promoting the art of drama among students by organizing different plays and theatrical events in Arya College. The aim is to make our college more vibrant and lively by encouraging students to express themselves through this medium as well!
The Social Awareness Club
This is a club that organizes various awareness programs for students, such as distributing free books to poor children, donating clothes, food etc. The aim of the club is to help those in need and make our society a better place!
The Environment Club
This is a club that aims at creating awareness among students about the environment, its protection and conservation. The club organizes workshops on different topics related to this, such as organic farming or rainwater harvesting etc.
The Science Club
This is a club that aims at promoting science among students by organizing different events such as debates and workshops. The aim is to make our college more vibrant and lively by encouraging students to express themselves through this medium as well!


Campus Facilities and Amenities
Arya College is one of the best colleges in Jaipur, Rajasthan. It has a lot of facilities and amenities for students. The campus has a cafeteria, lounge, library, computer lab and student services. There are also many clubs that you can join such as art club or sports club etc.
The Student Union organizes many events throughout the year like Freshers' Welcome Party (FWP) which is held for new students joining the college for first time; Sports Day where different sports competitions take place between different departments; Cultural Night which showcases talents from all over India by showcasing dances from various states like Punjabi folk dance etc.; Annual Day Event where awards are given out based on meritocracy(excellence).


Health and wellness resources
Arya College Jaipur has a medical center that is open 24 hours a day, 7 days a week. The medical center has a pharmacy, doctor and nurse on staff, as well as dentists for checkups and surgeries. There is also a psychologist and Counsellor who can help you with any mental health issues or concerns you may have. In addition to these services, there are physical therapists available on campus who can assist in treating injuries sustained during sports activities or other accidents that happen while at school


Financial aid and Scholarship Opportunities
Arya College is committed to providing financial aid and scholarships for students. In addition, it has a number of options for teachers who wish to pursue their education at Arya College.
Scholarships for students: The school offers several scholarship opportunities for students who qualify.
Financial aid options: If you're unable to pay your tuition fees on time or in full but would still like your child(ren) enrolled at Arya College Jaipur, don't worry--there are several ways that we can help.


Conclusion
This is just a brief overview of the resources available at Arya College. We hope it will help you get started on your research, so that when you arrive at our beautiful campus, you feel confident and prepared to make the most of your time here!