An Introduction To The Engineering Laboratory In Arya College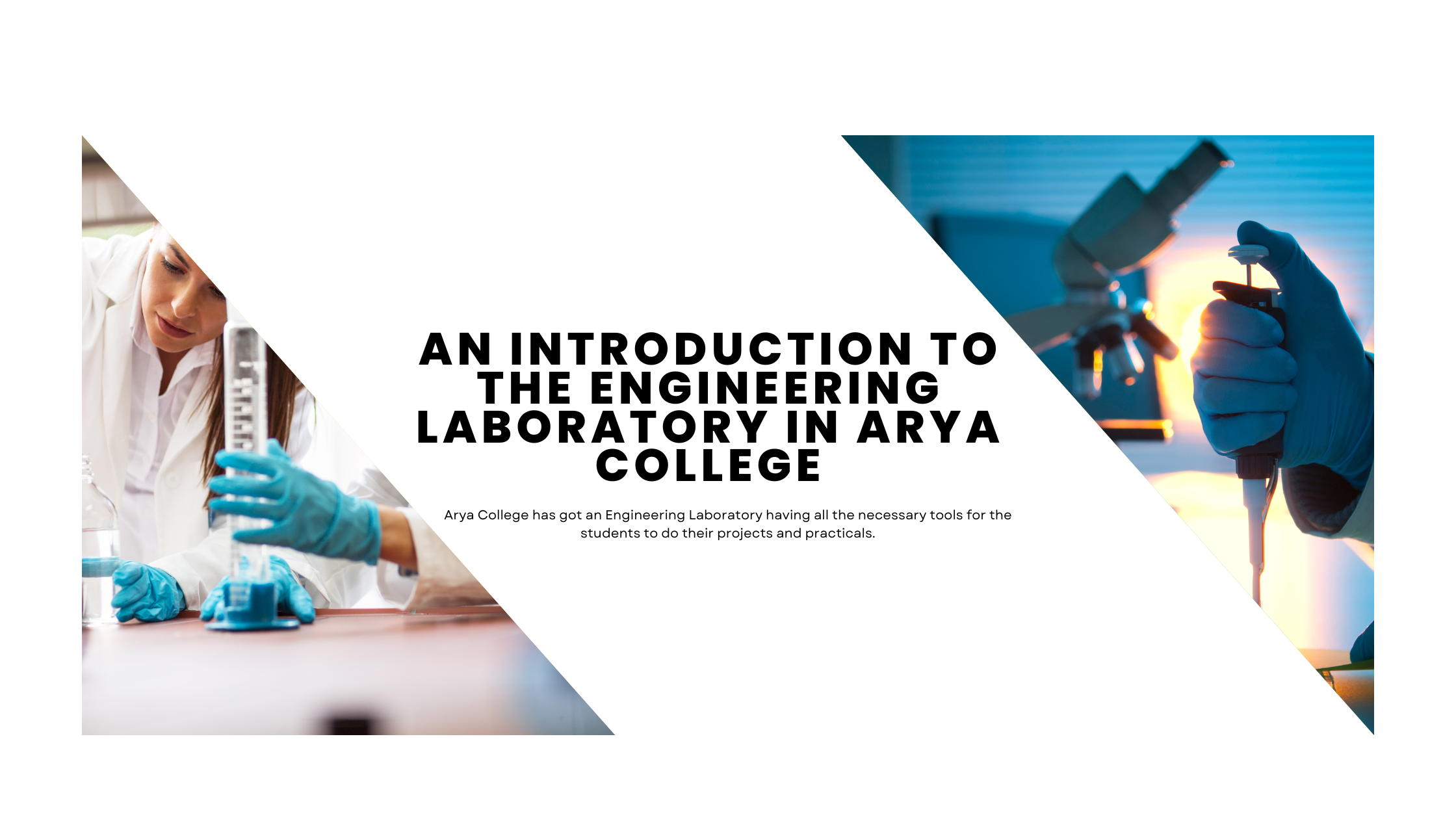 Arya College is a co-educational institution in Jaipur, Rajasthan. The college offers Various B.Tech undergraduate, postgraduate and doctoral programs in disciplines such as Chemical Engineering, Computer Science & Engineering, Electrical & Electronics Engineering, Mechanical Engineering and Civil Engineering. These five departments are led by renowned faculty members who strive to provide students with holistic learning experiences through classroom teaching as well as hands-on training at the various research laboratories available on campus.
Laboratories for Civil Engineering Students
The Civil Engineering Department of Arya College has well equipped laboratories which are equipped with the latest apparatus and instruments. The major subject laboratories of civil engineering generally include material testing, soil mechanics, geotechnical engineering, drainage, water resources and environment.
The Civil Engineering lab contains a number of machines that are used to perform various activities in civil engineering. These machines help students to understand how things work in real life situations so that they can apply it while designing projects or even after graduation when they will be working on real world projects.
The department has all the required labs with the latest machines, apparatus and instruments. These include following well-equipped laboratories: Material Testing Lab with 80 MT Computerized Testing, Geotechnical Lab, Structure Engineering Lab, Survey Lab, Environment Lab, Concrete Lab, Road Material Testing Lab, Fluid Mechanics Lab, Hydraulics & Hydraulic Machine Lab and Computer Aided design Lab. These provide ample opportunities to the students to carry out their project and seminar assignments as well as to undertake any research work.


Laboratories for Computer Science & Engineering Students
The department has a dedicated computer laboratory with a large number of computers. All the labs are equipped with the latest hardware and software to provide high quality education to students.
Arya College, Jaipur is one of the top Engineering Colleges in Rajasthan. The Department of Engineering has well-equipped laboratories that offer more than the prescribed practical needs as per RTU Curriculum. These labs include : Operating System Simulation Lab, Linux And Network Programming Lab, Compiler Design Lab, Project Lab /R&D Lab, Digital Hardware Design Lab, FPGA Lab and many more.


Laboratories for electronics and communication engineering students
The Department of Electrical and Communication Engineering is one of the oldest departments at Arya College Jaipur. The department has well equipped laboratories with latest equipment and instruments for teaching/learning purposes. All major components in this field are covered by it which include power electronics, control systems, communication systems etc.
We provide the best labs such as SIP Lab, Electronic Devices and Circuits Lab, VLSI Design Lab, Digital Electronics Lab, PCB Lab, Data Structure and algorithm Lab, CAD for VLSI Lab, Analog Communication Lab, Microprocessor Lab, Digital Communication Lab and Microwave Lab etc.


Laboratories for Mechanical Engineering Students
The Department offers Bachelor of Technology (B.Tech.) in Mechanical Engineering with specialization in Automobile Engineering and Production, Design, Manufacturing and Automation, Manufacturing Systems and Automation, and Production Engineering. The department has well-equipped laboratories for academics as well as research work.
The department is well equipped with a state of art laboratory with latest machinery and equipment which fulfill the requirements of the RTU and also provide the students for research work. The facilities include Mechanical Workshop lab, Basic mechanical engineering Lab, Kinematics of Machine and Vibration Lab etc.


Study Engineering at Arya College Jaipur
Arya College Jaipur is the best engineering college in Rajasthan. The college has an excellent faculty, who are well-qualified and have years of experience in teaching. They encourage students to learn new things, and they make sure that the students understand everything they teach them.
The infrastructure of this college is also quite good; there are many labs for all branches of engineering, including physics lab, chemistry lab and mechanical engineering lab etc. There is also a library with books on various subjects such as mathematics, computer science etc., which helps students prepare for their exams as well as understand concepts better through self-study or group discussions with other students who might be having trouble understanding something specific about a topic being discussed by their professors during class sessions.
Conclusion
We hope you have found this information helpful and that it will lead you to make an informed decision about your future. If you are interested in studying engineering at Arya College, then please contact us today!


FAQ
- What types of engineering laboratories are available at Arya College Jaipur?
Arya College Jaipur offers a wide range of engineering laboratories for its students, including but not limited to, computer labs, electronics labs, communication labs, mechanical labs, civil labs, and electrical labs. These labs are fully equipped with the latest technology and equipment to provide students with hands-on experience in their respective fields of study. Additionally, the college also provides access to research and development labs, which are used for advanced projects and experiments.
- How are the engineering laboratories at Arya College Jaipur equipped?
Arya College Jaipur has well-equipped engineering laboratories that provide a comprehensive range of equipment and machinery for practical experimentations. The college also provides access to the latest technologies and software tools in order to support the training needs of the students. Additionally, they have advanced computer labs with high-speed internet access, so that students can do their projects and assignments with ease.
- Can students access the engineering laboratories outside of class time?
It depends on the policies of the specific university or college. Some institutions may allow students to access engineering laboratories outside of class time, while others may have restrictions or require supervision by a faculty member. It is best to check with the institution's engineering department or administration for their policies on laboratory access.
- What types of projects have been completed in the engineering laboratories at Arya College Jaipur?
There have been a variety of projects completed in the engineering laboratories at Arya College Jaipur, including projects related to robotics, electronics, communication systems, computer networks, and renewable energy sources. Some specific examples include designing and building a solar-powered car, developing a smart irrigation system using IoT technology, and creating a voice-controlled home automation system.
- How do the engineering laboratories at Arya College Jaipur enhance the learning experience for students?
The engineering laboratories at Arya College Jaipur enhance the learning experience for students by providing them with hands-on experience and practical application of theoretical concepts. The laboratories are equipped with state-of-the-art equipment and technology, allowing students to gain a deeper understanding of engineering principles and develop important technical skills. Additionally, the laboratories provide a collaborative and interactive learning environment, allowing students to work together and learn from each other's experiences. This enhances the overall learning experience and prepares students for real-world challenges in their future careers.