A Comprehensive Guide to The M Pharm Course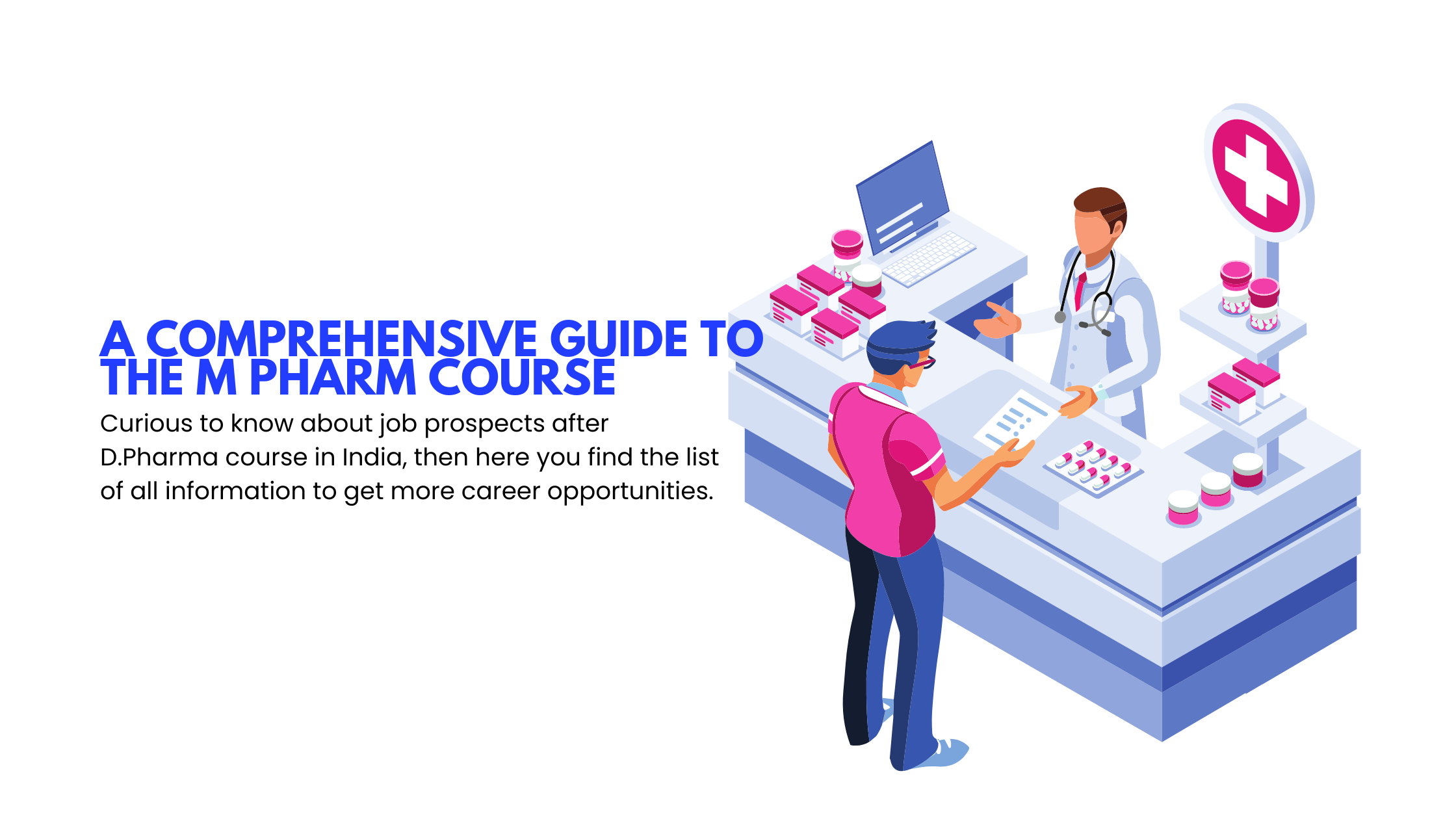 The world's largest producer of generic pharmaceuticals, India is renowned for its low-cost generic drugs and vaccinations. With a CAGR of 9.43% during the previous nine years, the Indian pharmaceutical industry has developed into a vibrant sector and is currently ranked third in the world for pharmaceutical output by volume. So, deciding to pursue an M Pharm course can have a major impact on your career. But, there are certain things you should consider when thinking about applying to a college for a Master of Pharmacy degree. You can use this blog as your go-to resource to understand different factors, which ensures you select the best pharmaceutical program.
Table of Contents:
What is a Master of Pharmacy?
Future opportunities for M Pharm degree holders
Job Scope for MPharm graduates
Multiple pharmaceutical companies in India
Why study MPharma at Arya College Jaipur?
Conclusion
FAQs
What is a Master of Pharmacy?
As an advanced course, the MPharm program helps the community with health-related challenges. It teaches the students to comprehend the processes involved in making medications and how they interact with the body to treat various illnesses. It aids students in acquiring academic credentials and powerful analytical abilities for employment in a practical field. Moreover, its curriculum includes the study of medical natural products, organic chemistry, biopharmaceutics, clinical drug research, pharmacoeconomics, and relevant topics. We go over some significant M Pharm details below:
Degree Level - Postgraduate
Age Limit -Unless a college specifies otherwise, there is no age restriction for applying for this degree.
Course Fees -Average fees range between INR 80,000 to 2.5 LPA
Average Salary -According to payscale, the MPharma graduates earn around INR 50,000-1.5 LPA
M Pharma course duration - 2 Years


The most important M.Pharm Specializations are:


Pharmacology
This focuses on the investigation of the interactions that take place between a living thing and chemicals, impacting both normal and aberrant biochemical functions. After earning your M Pharma course in this discipline, you will have a wide range of employment opportunities. An outline of the subjects covered in its syllabus is provided below:
General Principles of Pharmacology and Pharmacokinetic
Pharmacological Screening and Bioassay
Drug Regulatory Affairs Intellectual Property Rights and Bioethics
Drug Discovery and Clinical Development of Drugs
Research Methodology and Pharmacological Screening
Pharmacology of Autacoids Git Respiratory System and Chemotherapy
Pharmaceutical Biostatistics and Computer Applications
Molecular Pharmacology
Modern Analytical Technique


Pharmaceutics
Talking about M Pharm course in Pharmaceutics, this area is connected to the creation of pharmaceuticals and the technologies employed in their manufacture. Below is a list of all the subjects covered in its curriculum:
Modern Analytical Technique
Recent Advances in Drug Delivery System
Drug Regulatory Affairs and Intellectual Property Rights
Synopsis of The Proposed Dissertation
Pharm Biotechnology
Biopharmaceutics and Pharmacokinetics
Modern Analytical Technique
Pharmaceutical Production Management
Pharmaceutical Biostatistics and Computer Application
Product Development
Future Opportunities for M Pharm Degree Holders
Some of the significant prospects an MPharma course can provide are outlined below:
For enhancing their professional prospects, students might also enroll in MBA or PGDM programs. A managerial position in a pharmaceutical business will be easier for them to obtain with an MBA degree.
Students can work as pharmacists and drug inspectors if they choose to work in the government sector. A pharmacy master's degree aids students in a rapid promotion that advances their careers.
Depending on one's interests and preferences, one can pursue a Doctorate in pharmacy specialty. It enables him to become an expert on the subject, which in turn leads to him being offered lucrative work jobs.
Students can start their own pharmacies and medical supply shops, both of which will help them progress in their careers.


Job Scope for MPharm Graduates
The Indian pharmaceutical industry consists of approximately 3,000 pharmaceutical companies and 10,500 production units. India occupies a crucial position in the global pharmaceutical business being the home to a considerable number of scientists and engineers who might take the industry to new heights. As a result, the Indian pharmaceutical industry has a large number of job openings.
Some of the most common employment roles/positions you can explore after completing an MPharma program at Arya College in Jaipur are:-
Job Positions and Description
Drug & Quality Control Analyst
They perform quality control procedures to guarantee the safety and efficacy of the pharmaceuticals. They also teach other analysts how to conduct tests and laboratory procedures by determining and addressing equipment issues.
Clinical Project Manager
Many aspects of the clinical trial process are led by clinical project managers. They supervise tasks including developing a strategy or protocol, selecting the tests to run, and how frequently to conduct them to adhere to government regulations and scientific standards.
Oncology Pharmacist
Typically, an oncology pharmacist is in charge of overseeing the inpatient pharmacotherapy of cancer patients. They collaborate closely with the nursing team to plan the delivery of chemotherapy and to provide patient and staff education.
Pharmacologist
Pharmacologists examine and analyze medications, chemicals, and other compounds to see how they impact biological systems and determine whether or not they should be used safely.
Medical Writer
Medical writers are primarily involved in the creation of a variety of documents for these regulatory submissions, such as clinical trial protocols, final reports, and reports from clinical experts. They might also assist with the creation of manuscripts for medical publications.
Medical Coder
All paperwork on reimbursement is examined by a medical coder. They check that every document is included in the file and then examine the medical records.
The typical compensation for the discussed roles is shown in the table below:
Source: self-created
Multiple Pharmaceutical Companies in India
By 2023, the Indian pharmaceuticals market is anticipated to generate revenue of USD 33.18 billion and occupy the ninth spot in the worldwide pharma market. And, the top pharmaceutical companies in India, ranked by total revenue are shown in the chart below:
Source: marketresearchreports.com
Why Study MPharma at Arya College Jaipur?
The Pharmacy Council of India and AICTE have both approved each course offered here. Additionally, it adheres to a course curriculum that has been revised to meet industry standards.
It comprises experienced academic members, who place a strong emphasis on transferring knowledge in the fields of formulation development, manufacturing technology, and process development, which are crucial specializations for producing both conventional and cutting-edge drug delivery systems.
Conclusion
Summing up, an M Pharm course promotes students' theoretical, technical, and practical pharmacy knowledge. It also fosters students' curiosity about conducting additional pharmaceutical research. Hope this blog will make it easier for you to comprehend the benefits of this program and its various components.
FAQs
What are the important requirements to enroll for an M Pharm course?
A BPharma degree with a minimum grade of 55% from an accredited university is required.
Students must receive a passing score on the GPAT or another M.Pharm admission exam at the national or state levels.
What is GPAT?
The GPAT is a yearly test offered throughout India by the National Testing Agency in computer-based test mode alone, which is used to assess applicants for admission of pharmacy graduates to master's programs. NTA reports that there were 53,302 registered candidates in 2022, but only 50,508 showed up for the examinations.
What are the different benefits of pursuing an MPharm course?
Many employment alternatives, flexibility in the workplace, good compensation, and improved abilities are a few of the elements that summarise the benefits of an academic M Pharm education.
Is the study of pharmacy easier than MBBS?
In theory, they are both doctoral-level graduates. They are not distinguishable from one another by any particular quality. They are both equally important in their respective jobs. Whereas pharmacy is primarily focused on drugs, MBBS is more concerned with anatomy.